Home » Posts tagged 'backpacking'
Tag Archives:
backpacking
By Leah
I've only just started my gap year, but I'm already beginning to understand one of the most important skills that I'm going to develop this year: flexibility.
Under normal circumstances a gap year is an opportunity for spontaneity, adaptation, and occasionally allowing whims to take you wherever they will – it's not possible to carefully plan out your every move months in advance; that's what makes it so exciting! I feel like that effect has been amplified this year – now that the future of gap year programs and work opportunities and travel is uncertain, January of 2021 can feel like it's decades away and there's no way of knowing if things will be roughly the same, or if we'll be living in a completely different world. I've come up with plans and backup plans and backup-backup plans, and they will all undoubtedly require some modification over the next several months; there's a decent chance that I'll end up doing something completely different that hasn't even crossed my mind yet. I've established my long-term goals and expectations for the year with this uncertainty in mind: it's not exactly realistic right now for me to hope to get a specific job or go to any particular country; 2020 goals have to be a bit more abstract. My main focus this year is learning how to get the most out of every situation I find myself in.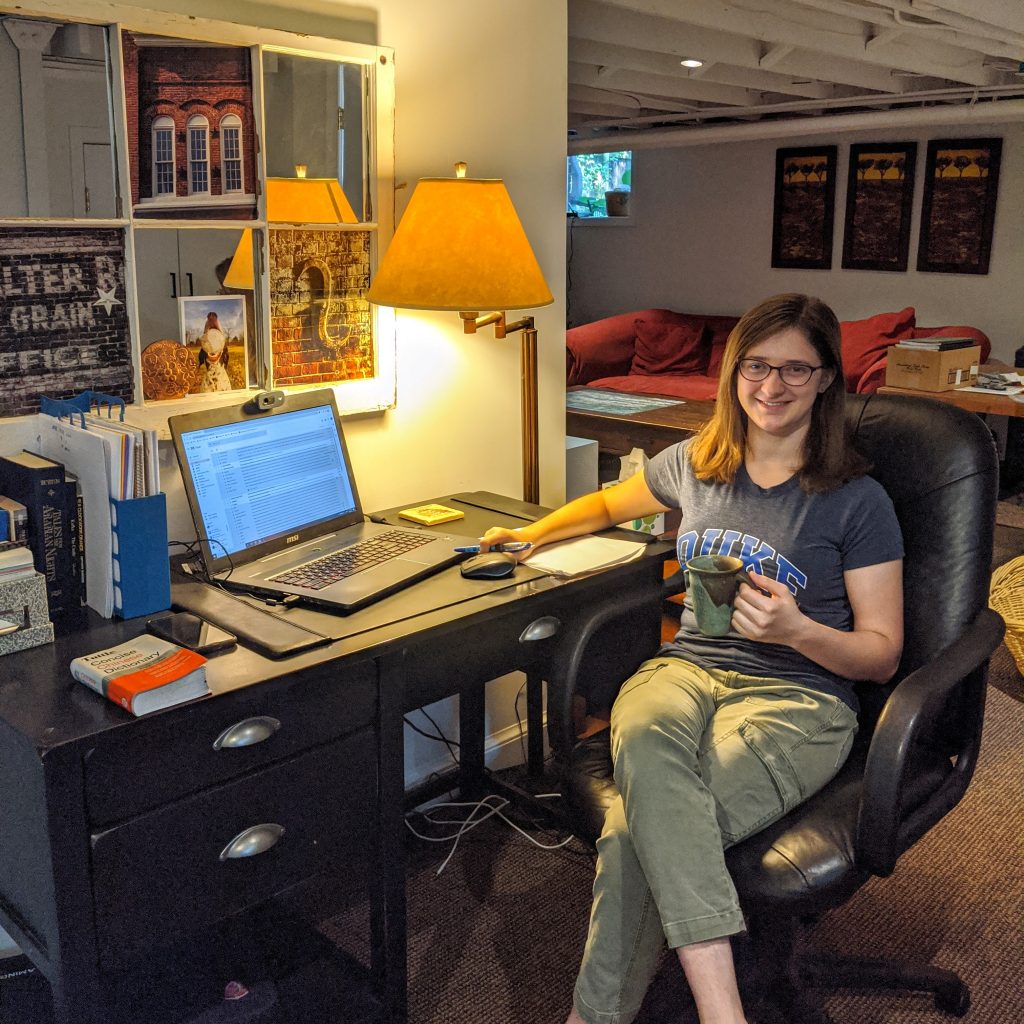 I'm starting off the year in my hometown of Alexandria, VA. This week I started working as a remote intern for a firm that creates political campaign ads. I'm working with one other intern as a production and research assistant supporting the work of four associates. I'm so excited to be involved with this work and learn about creating and conveying compelling campaign narratives, while playing a role in key races in this very important election year. I was nervous to start working with a team of people who I've never met and who I can't interact with in person, but I'm already getting the hang of things – the most important thing is to communicate and ask a ton of questions!
I'm also staying involved with my personal interests by taking lessons in Chinese language, horseback riding, and violin. My desk will be my home base for the next couple of months, as that's where I spend much of my time making phone and Zoom calls, doing work for my internship, and attending remote Chinese classes.
Towards the end of September, I'll wrap up my internship and travel to North Carolina Outward Bound to spend two months backpacking, rock climbing, canoeing, and kayaking. I'm working hard to keep myself in good shape so that I can get as much out of that program as possible – that means lots of long walks and time working out in our garage "gym"!
Right now my plan is to get home from Outward Bound at the end of November, spend some time with family, and then (hopefully) travel internationally in 2021, but I'm ready to adapt to whatever the world looks like in the coming months. I can't wait to find out what the next year has in store for me!
By Amelia
It feels surreal that, in just over six weeks, this five-and-a-half month period of sitting around at home will finally come to an end. I'll be stuffing my 65-liter backpack full of the essentials (sleeping bag, sleeping pad, tent, water filter, bear canister, ultralight stove, cooking fuel, and food to last at least a week) and heading into the Northern California wilderness. 
My plan is to backpack along the Pacific Crest Trail from Echo Lake to Donner Summit, a 65-mile stretch known as 'California Section K'. This will be my first real backpacking trip, so in preparation I spent three days earlier this month doing a practice trip with my family. I packed my backpack, sealed up my bear canister, and drove about three hours to Long Lake (near the Plumas National Forest). On the first day, I hiked about two miles to the end of the lake to set up camp, then spent the second day doing an 8 mile out-and-back hike (with a full pack on, don't worry!) along the rocky Palisades Trail. I have to admit that, after startling a rattlesnake on the first mile of the trail, I almost decided to turn around and give up on backpacking altogether. I'm glad I didn't because, in spite of the snake scare, the scenery was beautiful and being surrounded by nature made the feeling of isolation (something I think we've all experienced at some point during the last several months of quarantine) almost normal. On the third day I hiked back out, tired and in desperate need of a shower, but feeling at least a little more confident in my backpacking abilities.
I hope that my PCT trip will be a chance to really get to know my home state – although I was born in California and have lived here my whole life, there's still so much I have yet to see. I hope to learn not only how to survive for a week on supplies that I can fit in a single backpack, but also how to spend time truly alone and independent from society. Most of all, I hope that this backpacking trip will be the first of many! 
By Delaney
Hello! It's Delaney again. The last blog I wrote was a huge overview of my semester with NOLS, but I feel like I didn't give certain events and days the attention they deserved. In this blog I want to zero in on my favorite day from the hiking section in the Wind River Range; September 3rd, the Sunrise Summit.
Monday, September 2nd, 2019:
Pizza Monday! Pizza Monday is a tradition that our group had in the backcountry. We'd sit around the kitchen and make pizza for dinner, which is a laborious process in the backcountry. It was my turn to cook that day, so I was tasked with making pizza for my group. I spent about three and a half hours making some pretty terrible pizza (it was only my second time making pizza!). My cook group ate it and smiled anyway, complementing my "hard work," which is just another way to say it was terrible. As we were eating, we talked about what the plan was for the next day. We were supposed to have a layover day, where we didn't move campsites. Our instructor, Jason, suggested an optional hike to summit the close-by mountain. I was in. Then my coursemate Ben suggested we wake up crazy early and summit it in time to watch the sunrise. I was hesitant. And then I was in. So, we all went to bed around 7pm to prepare for this crazy day of hiking.
Tuesday, September 3rd, 2019:
Luna, Maggie, Ben, Jason, and I woke up at 4:30am to start hiking. We brought one backpack filled with layers, hot water in thermoses, and dry cereal. I didn't really think this whole hiking-in-the-dark thing out. I didn't realize that I was going to have to use my headlamp to hike because it would still be dark out?! Maybe I was just tired. We strapped on our boots and turned on our headlamps and started hiking. The moon was out of view and the stars were so beautiful. The sky was so clear that we could see the defined Milky Way. Such a cool view. Ben led us up a difficult incline that Jason scouted for us. The mountain across from the lake was grey and black and could only be made out as an outline of where the stars stopped. We hiked in silence as we looked at the stars and at the challenging route ahead. We looked over the beautiful sight of the sun beginning to rise and hit the mountain across from us. The colors changed from black with white stars to grey and purple skies, to orange mountains, to yellow mountains and blue skies. It was incredible. Once we reached the top, we enthusiastically took in the 360 degree view. The lakes glistened below us as we pointed out the campsite we had come from the day before and our tents that looked so tiny from our vantage point. We spent some time taking in the view, eating dry cereal, and talking about the ridiculousness of dog shows (not sure why, but I remember that detail very clearly). As we descended, we saw the first stirrings of our group at our campsite. Some were just waking up, Kahil was still snoring (sorry Kahil, you snore the loudest though). After a proper hot breakfast of powdered eggs and summer sausage, Luna, Maggie, Ben, and I spent some time on the lake meditating (or trying to and getting interrupted by Milan and Max fly-fishing). I napped for the rest of the day and met up with the group in the evening for a class on styles of communication and a campfire game. After the meeting, I promptly fell asleep, ending a beautiful day in the Wind River Range.
This day was so special to me and stood out as one of my favorite days on the hiking section. The hike was strenuous and peaceful. The view was vast and beautiful. And the people were encouraging and supportive.