Category Archives:
Nathan
By Nathan
I spent most of the past month on a trip through Argentina's Patagonia region organized through my exchange program. Along with 52 other exchange students, I spent 17 days traveling along the famous "Ruta 40".
The trip started with all of the exchange students from northwest Argentina meeting at the Córdoba bus station. We had previously met each other at an orientation camp in September, and all of us were excited to see each other again. We then got on the bus and spent the first of many nights sleeping on the road. 20 hours later we arrived in Puerto Madryn where we spent two days whale watching, exploring the beach town, and playing cards at night, sharing stories from our exchange year so far.
From Puerto Madryn we went to El Calafate, making a stop along the way at Punta Tombo to see the world's largest reserve in the world for Magellanic penguins.
After an hour of watching these adorable 2 ft tall penguins waddle around, we resumed our trip toward El Calafate and spent the night on the bus. In El Calafate, we got the chance to visit "Parque Nacional Glaciares". We spent hours taking in the massive—yet ever-shrinking—size of the approximately 18 thousand-year-old glaciers. While we were viewing the glacier, we heard a huge boom and watched as the glacier calved and a massive piece of ice fell into the water. We then got on a boat to get a closer look at the glacier.
The next day, we spent some time in the town of El Chaltén visiting a waterfall and hiking a small mountain.
At 2 am, we continued our journey south toward Ushuaia. The Islands of Tierra del Fuego–where Ushuaia is located–are shared by Argentina and Chile, so that meant 4 border stops along the way, which moved particularly slow because the border agents were a little distracted watching the world cup games that were on. There were even a few students who had to go through the window twice because the agent forgot to stamp their passports the first time. Eventually, we made it to Ushuaia at 9 o'clock that night. Only 1,000 km from Antarctica, Ushuaia, the southernmost city in the world, started as a prison where Argentina sent their "most dangerous criminals". The town now boasts 75,000 residents and is one of the "gateways to Antarctica" as many ships port here before their journey to Antarctica. I spent Thanksgiving day swimming in the freezing ocean and was thankful for a warm meal afterward. We also visited the national park of Tierra del Fuego before turning around and starting the journey back north.
From Ushuaia we drove all night to Esquel where we made a one-night stop on our way to Bariloche. In Esquel, we visited Los Alerces National Park where we saw 3,000-year-old cave pictographs and the beautiful Lake Futalaufquen.
Then, our last stop. Bariloche is a glacial lake town famous for its Swiss influence and chocolate. We spent most of our time here exploring the waterfront and taking in the incredible views.
On our last day in Bariloche, we visited a camp with horseback riding, relay races, and an Asado lunch. We had a lot of fun competing against one another and sharing one of our last meals together. After we returned to the city, we visited a chocolate shop and watched a demonstration of how they make Bariloche's famous "Rama" chocolate. We then explored the small shops before having one final dinner at the hotel. The next morning we got on the bus and spent 22 hours driving back to Córdoba.
I have wanted to go to Patagonia for years, so this trip was a dream come true. We took in some of the most beautiful scenery I've ever seen and I was able to make friends around the world. Although there was some tension when the World Cup games were on, all of the students became very close and we are looking forward to the next time we will see each other again.
Speaking of the World Cup, the energy is unreal here as we wait for Argentina to play in the World Cup final on Sunday against France. The USA got knocked out in the round of 16, but ever since I have been cheering on Argentina, and Sunday they have a chance to win it all. My ultra-superstitious host mom will make sure everything is the same for the final as the other games; same room, everyone sitting in the same spots, all of it. Then we will sit in agony for the next 90 minutes, with the hope of Argentina, and Messi, bringing home the country's third World Cup.
By Nathan
Today was my last day of school before summer vacation! I will return to school at the end of February. My first two months in school were great for meeting people, but quickly the days at school became mundane while I struggled to understand the subjects. For context, I just ended the "5th year" (Junior Year in the US) of Argentinian high school–when school starts again in February I'll be in the "6th year" which is the final year. Luckily for me, I am not required to take any tests or complete any homework. This particular school is focused on the economy. Every day there are one or two classes focused on economics. These classes have been difficult for me to understand. I immediately get lost in the translation of not only the language but also the currency. An easier class for me is my music class, which I have twice a week. I was involved in choir all throughout middle school and high school, so naturally, music is one of my favorite classes in Argentina and a place where I feel at home. I have learned the most in this class. We've studied different genres of music in Argentina, played Argentinian instruments, and learned lots of history through music. Although I am happy to move on to the adventures of summer, I also look forward to next school year when my language has advanced and I can be a more active participant in my classes.
I have started daily journaling since arriving in Argentina. When I started writing daily it felt like a burden and something I was only doing for my future self to enjoy. But after a few weeks of consistently writing in my journal, I realized how therapeutic it can be. My aunt–from whom I was given the journal–wrote inside the front cover of the journal, "Reflect on 3 good things often–daily if you can…When we capture good things we are more likely to see the goodness all around us." Since journaling daily, I have realized how insignificant bad moments during the day can be. By the time I write my reflection, I have already forgotten most of the petty things that happened during the day. Don't get me wrong, it has also been a place for me to vent some of my larger frustrations, but for the most part, it has documented and cultivated gratitude. I look forward to re-reading my entries in years to come, but I also look forward to writing more in these journal.
Last weekend, my host family and I spent 4 days in a cabin in the foothills of the Andes. Once we arrived, we collectively exhaled the stress of daily life and inhaled the soothing silence that was all around us. We passed our time playing board games, taking walks, and conversing. On Friday, we took a day trip to Peñón de Aguila. There, my host brother Febo and I ziplined, climbed a rock wall, shot a bow and arrow, and did two separate ropes courses–one of which crossed a river. These activities fondly reminded me of the summer camp where I worked as a counselor, and have spent the past 13 summers.

Looking ahead, I am very excited to be in Argentina during the World Cup. My host dad told me that "Everything stops when Argentina is playing". Students watch games on TVs in the classroom, co-workers gather around a radio, and when Argentina scores…the whole city erupts into cheers, car horns, and songs. It will be like nothing I have ever experienced and I can't wait.
Ending school feels like closing my first chapter here in Argentina. I now move on to a summer filled with new adventures. I leave Tuesday for a 17-day trip to Patagonia with other exchange students living in Argentina. While it is exciting, I will also miss the friends that I made from the "6th-year" class. These students are my age and I formed bonds with them that are closer than the ones I have formed with the students in my actual grade. When I return to high school in February, these students will all be entering their first year of college. Luckily I will spend time with them this summer and they won't be too far away when they go to college. For my next blog post, look out for an intensive summary and review of my trip to Patagonia, which hopefully will include some photos of Penguins at Puerto Madryn!
By Nathan
I've been in Argentina for over 1 month out of my 10-month-long foreign exchange program through Rotary International. It has been an exhausting, yet incredible experience so far. I have done my best this month to take advantage of all of the opportunities to get familiar with my new family, school, and city.
I'm living in Córdoba, CBA, Argentina, a city with about 1.6 million people, which is significantly larger than my hometown of Cedar Rapids, Iowa. A typical day for me consists of going to school from 8-3, with a few recess-like breaks throughout the day that I spend playing soccer with my classmates. Monday-Thursday after school, I make a snack at home and then bike to my 4:30 soccer practice. I get back to the house around 6:30, eat something to hold me over until dinner, and then enjoy the little moments with my host family. We don't eat dinner until 9:30 or 10:00, and I am normally ready to head to bed after that.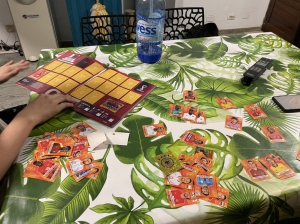 I've been able to see a lot of other exchange students since being here. During my second weekend here, I went to Cuesta Blanca, Córdoba, for an orientation camp with all of the other 60 exchange students in Córdoba, and surrounding provinces. At the beginning of our exchange, Rotary gives all of the students a blazer. Students then make/buy pins that represent the country, province, or state that they are from. Throughout the year, the students all exchange these pins and put them on their blazers' until they are full.
Similar to after all the college freshmen enter campus for the first time, a mystery illness seemed to have spread during this orientation. All the other exchange students I talked to had a cough and a sore throat for at least a week after the camp. Feeling under the weather, coupled with the struggles of spending every day speaking a new language, has made me feel exhausted all the time for the past 3 weeks
I came to Argentina with 5 years of high school Spanish experience, which was a great starting block, but every day is still a struggle to fully get my thoughts across. My high school did a good job of teaching us the basic rules of Spanish, but I have struggled with my severe vocabulary deficit. That being said, each day, my vocabulary expands, and I can understand just a little more than the day before. This has encouraged me to keep progressing toward my goal of fluency by the end of my gap year.
I'm looking forward to continuing my language journey and embarking on new adventures while I'm in Argentina. I just signed up for a trip through my program to go to Patagonia in November, so I'm excited to share updates from that trip in an upcoming blog!