Home » Posts tagged 'Spanish'
Tag Archives:
Spanish
By Sam
Back in the end of December I made what was a very difficult decision. I was going to leave Spain. I had originally planned on staying in Spain until April, but I was having more difficulty in Spain than I imagined. Of course there were incredible successes too. Every day I could feel my Spanish improving. I no longer had any trouble understanding anything that was said to me, could easily respond, and was even beginning to understand random conversations that I heard on the street. I was learning a lot at my Spanish classes at Universidad Nebrija, and having fun playing hockey for S.A.D. Majadahonda, the local club.
Despite this I was feeling lonely, and actually a little bit trapped. I was going to school with juniors in college who traveled every weekend while I stayed in Spain to play hockey, so I was never able to make any close friendships with any of them, and the guys who I was playing hockey with were very nice to me, but it seemed like we were always a bit separated by the knowledge that I would be leaving in April. That meant that none of us ever put a lot of effort into getting that close. I also had a big logistical problem: My classes ended at two, and hockey didn't start until eight or nine, leaving me with six to seven hours of awkward time, not enough free time to do anything I really wanted to do like travel, and too much time to spend reading at a cafe or watching Netflix every day. Basically I had a lot of free time, but it didn't ever line up in ways that I could use very well. On top of all this I was not as comfortable living in a city as I thought I was going to be. I have lived in a tiny town in New Hampshire all my life, so Madrid was a big change.
I was completing my goal of becoming fluent in Spanish, but I really didn't feel like I was enjoying myself as much as I should be on my gap year. So, I started looking into programs in Spanish speaking countries I that I could do. I knew that I was interested in a program because I realized that it was realistically a mistake to try to do everything on my own in Spain. Since I was on my own, I didn't really share the same experience as anyone else, but on a program everyone is on their own so I figured it would be easier to make strong connections. Pretty soon I was drawn to NOLS Patagonia. They ran a cultural expedition through the Chilean Patagonia that promised 31 days of backpacking and cultural interactions. This sounded perfect, the outdoors, speaking Spanish with locals, getting to meet new people, it checked everything off on the list of things that I wanted. But even then I was not totally sure if I wanted to leave. As the old saying goes,  "you don't know what you've got til it's gone." I started to realize that I actually had grown closer with my Spanish hockey team than I had realized. The idea of telling them I was leaving was daunting. After. Several days of mulling it over I finally decided to sign up for the NOLS course, and to leave Spain in late December.  Telling people that I was leaving early was certainly not the most enjoyable experience, but I knew that I wanted to make a change, so I did it anyway.
None of this is to say that I didn't have an amazing experience in Spain, I would not trade what I learned for anything. Did I make mistakes? Of course, but the ability to speak to people that I never would have been able to before makes every mistake I made worth it 10 times over. I do want to help others learn from the mistakes I made though. If you are reading this blog and trying to plan a gap year the two biggest questions I would ask you are as follows:
What will your day to day life look like? and Who will your friends be?
I would ask you to think about these two questions hard, because these two questions are the root of where I went wrong. As I was planning my gap year I would have said I will spend my days learning Spanish and playing hockey and my friends will be my classmates and hockey teammates. But I didn't consider how these two things would affect each other. Since I had hockey every nearly every night and every weekend it was difficult to spend time with my classmates outside of class, and since I didn't go to school with any of my teammates it was difficult to spend time with them outside the rink. Having a game every weekend for hockey was also difficult, because while I love hockey it made traveling, which is pretty much synonymous with being in Europe, pretty difficult to arrange. So, make sure you think about these questions so that you don't do what I did, make yourself simultaneously too busy and not busy enough.
So, reader who may be considering taking a gap year, should any of this make you reconsider? ABSOLUTELY NOT! I now want to talk about some of the many amazing things times I had living in Spain with some pictures.
Playing hockey in Spain: 
Playing hockey for S.A.D. Majadahonda was definitely one of the craziest things I've ever done. As anyone who has played a sport knows, communication with your teammates is key, and I had to communicate in Spanish. This forced me to get good at listening to people and being able to respond quickly. It also gave me the opportunity to travel throughout Spain with Spaniards. Every weekend that we had an away game we would leave the night before on a bus, play a game, and then have at least 6 hours to explore the city. Experiencing Spain with Spanish hockey players was probably one of the most unique experiences I had.
My Host Family: 
My host family were probably the nicest people I had ever met. They were the real reason that leaving Spain was so difficult. They brought me to their summer home up north, I want to their grandparents 50th wedding anniversary. They treated me like I was their son. I will be forever grateful to them.
Classes at Universidad Nebrija:
I am actually amazed at how much I learned in 4 months. I started off with a pretty solid foundation, but wow, I honestly never imagined that I would understand Spanish as well as I do now. When I started out, speaking was easier than understanding, but now I can understand everything so speaking is definitely the harder part.
Travel: 
I was lucky to have three close friends from home in Europe at the same time I was there. One in Salamanca, Spain, just a few hours north of me in Madrid, one in Switzerland, and one in London. I traveled the most with the one in Salamanca, and the friends that he had made on his first semester at Colby College that he spent in Spain. We went to Barceonla (my friend in England actually came on that trip too) and Milan together. I also went to visit both friends in Switzerland and London.
So, am I glad I spent 4 months in Spain? Yes I am. Am I happy I left when I did to pursue other things? Yes I am. Would I change some things? Yes. Would I trade my experience for anything? Absolutely not!
By Cate
Acostumbrarse. The Spanish verb for becoming accustomed to and also one of the first words I learned upon my arrival in Cuenca. Within those first few weeks of learning to live with a host family, speak a new language, and maneuver an unfamiliar city, I thought that I would never become accustomed to this strange new way-of-life. At times, I felt almost overwhelmed by the amount of challenges I faced on a daily basis. Luckily, within my first six weeks of being in Ecuador, I got to experience the levity and merriment of Carnaval, one of the biggest holidays celebrated in Ecuador and in South America. Due to this festival (and the copious amounts of pan con dulce de leche that I consumed), I was able to overcome many of the stressors of cultural adjustment and begin to truly enjoy the breadth of Ecuadorian culture.
Carnaval is a momentous occasion here in Ecuador. Back in January, when I first moved in with my host family, they were already discussing their plans for Carnaval: where we would go, what we would eat. It was not a matter to be taken lightly. In the weeks leading up to the festivities, our house became a storage center for water guns and cans of carioca, or party foam. Bottles of Coca Cola and Pilsener began to collect on our porch.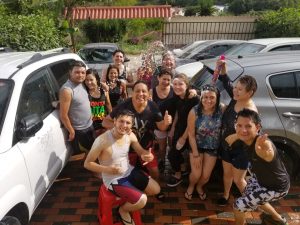 Then, on February 15th, about a week before the official start of Carnaval, my host family and I traveled an hour outside of Cuenca to the Valley of Yunguilla. Here, we met up with thirty other family members from all over Ecuador. For me, this was when Carnaval truly began.
Upon our arrival, and as we unloaded the seemingly endless amounts of food and drink from the car, several of my host family members began to set up a station where we were to "play Carnaval." I've learned since then that "playing Carnaval" can take many shapes, but for my family, it involved becoming a "human mess" and then eventually getting "cleaned" of all the gunk that covered us.
At first, I had no idea what was going on, but once my tío oh-so-gently threw chalk into my face, my tía sprayed the entirety of my body with carioca, and a family friend rubbed some avocado on my cheeks, I began to understand the whole "playing Carnaval thing." Or so I thought… Because once I was covered in chalk, foam, and avocado, I was rushed over to a stool where a trash can full of water (and shoes, for some reason I have yet to uncover) was dumped over my head.
Then, these steps were repeated again and again for every person until the sun began to set and the combination of our wet clothes and the nighttime breeze made us shiver and rush over to the hot tub. And while I thought then that the party was over, in reality, it had only just begun. Shortly after our escape to the hot tub, five hours of karaoke began as my host family members fought over the microphone and danced to every new song.
And after that, a week of Carnaval activities followed. My favorite activity? Jueves de Compadres y Comadres, or the Thursday before Carnaval when the people of Cuenca gather in a plaza in order to spray carioca into each other's faces (aka eyes). Thankfully, I wear glasses and had some semblance of protection. Others were not as lucky.
Following the events of the previous weekend and Jueves de Compadres y Comadres, I had imagined that the weekend of Carnaval itself would be nothing short of crazy. But after watching a parade in the city center of Cuenca, where (surprisingly, I know) there was more carioca and chalk, my weekend was spent relaxing with my host family.
We traveled to Yunguilla, ate traditional foods such as cuy (guinea pig) and Mote Pata (an Ecuadorian soup only served during Carnaval), and played board games. This togetherness and family bonding time was one of my favorite aspects of Carnaval, as it helped me strengthen my familial relationships and I learned my new favorite board game: Rummy-Q.
While completely crazy at times, I am so thankful I got to experience Carnaval here in Ecuador. The time I spent immersed in all of its festivities, from being sprayed down with foam to eating a traditional soup with my family, was time I spent learning more about the Ecuadorian culture and abandoning the stress of acclimating to a new, unfamiliar place. And after experiencing the fun-loving, carefree attitude of Carnaval, I have decided to adapt certain elements of that attitude into my own mindset as I look toward my next three months here in Cuenca.
¡Que viva el Carnaval!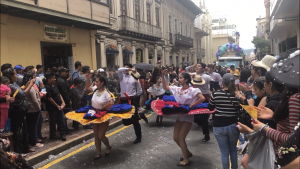 By Makee
It's fascinating how easily you can slip into another life. Here, it's custom to greet people with a hug and a single kiss on the cheek. There are few stop signs, even at busy intersections, so it's very important to look both ways before crossing. If you want to pay with a credit card, you usually have to show an ID to the cashier. Finally, you must tell the bus driver the cross section of the streets of your destination, so they can charge you the correct amount for the ride.
I've spent 2.5 days in Buenos Aires and I already have a wealth of little tricks to help me become a better Porteño. I'm living in a house with other international travelers, but everyone has their own schedule and routine, so it makes for a very independent experience. I forgot that I do not know how to cook at all; I've been eating out for every meal and have only managed to stock the fridge with some yogurt.
I feel very stealthy (and oddly empowered) slinking into different skins during my travels. No one knows me in this entire country and that anonymity is exciting. I can dine out alone every night, I can make a ton of new friends or I can make none, and it ultimately does not matter. There are no long term consequences to virtually any of my actions (within reason), so my existence is purely in the present moment. I may not have friends to do things with yet, but so what? If I want to take a walk near the ocean, or visit artisanal flea markets in the numerous plazas, or go on a hunt for the best iced coffee in my neighborhood, I can. It's refreshing and fun to do things on my own time, without fear of judgement because no one knows me and no one cares.
I've likened parts of my gap year to friends and family to "jumping off a cliff." In some ways, packing up all my things (again) starting over (again) in a new place (again) feels like a blind trust fall. I didn't have my housing completely sorted out for Buenos Aires until 2 days before I up and left home. It's incredibly intimidating to put yourself out there in a new country and hope for the best. But the experience, the ambiguous plunge into uncharted depths, is exhilarating and so. worth. it.
I've loved walking around Palermo, the neighborhood I'm currently living in, and seeing the vibrant murals on the buildings, the local clothing brands, the specialty panaderías, and adapting. It's fun to people watch, try new foods, and practice my Spanish. I will begin my public policy internship with a local NGO fighting against human trafficking in a few days, but for now I'm enjoying the uncertain, timid inklings of new discoveries in a new place amidst a new beginning.