By Maya
January was a very exciting and enlightening month for me as I spent almost its entirety abroad in Portugal, Morocco, and the United Arab Emirates. While each trip was unique, all had the common theme of learning about the Jewry that resided there. In Portugal we walked the streets of Lisbon, Porto, and Tomar, and visited dozens of beautiful castles and landmarks. We also had time to meet with the Chief Rabbi to learn about the Jewish expulsion during the Portuguese Inquisition and the modern community that has come back to live there. We met with a group of Jewish Portuguese college students to hear about their everyday lives and how their religion fits into that. It was interesting to see the contrast between what life was like for Jews during the Inquisition as opposed to it now.
The next week in Morocco we explored four different cities and each was fascinating in its own respect. Walking through the Marrakesh markets filled with spices, goat heads, jewels, and daggers allowed me to immerse myself in a culture unlike any I have ever encountered. We visited a Chabad house (a Jewish community center) to speak with the Rabbi about the current situation of Jews in Morocco. As many of my friends on the trip were of Moroccan descent, hearing about their ancestors' history first hand was a truly special experience. Watching people I care about being able to connect to their heritage heightened the trip in ways I never could have expected.
Lastly, in our trip to Dubai we met with deputies in the Israeli embassy to discuss the current relations between the UAE and Israel. These relations are quite new, only having started in 2020 when the UAE signed the Abraham Accords. But in the three years since then, so much progress has been made and the Jewish life there has begun to bloom. I was very grateful to hear about the ongoing discussions between the two countries and how they hope to develop their relationship.
Traveling through these beautiful countries has given me a new appreciation for different communities and a more nuanced perspective on my gap year.
By Maya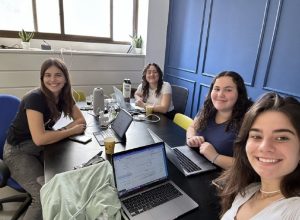 One of my hardest transitions was getting used to office life in a foreign country. As part of my program, I had to find an internship to work at while in Tel Aviv. After researching a few different companies, I chose to work at Sonovia. Sonovia is a high-tech startup whose main mission is to create technology and build machines that help get pollutants out of textiles, thereby making clothing more eco-friendly. Their vision was in line with my environmental ideals so I thought it would be special to work with them.
I have now been at Sonovia for 2 months and am very happy with my choice. Unlike the experience of many interns at American companies, what I have noticed in Israel is that they throw interns right into the thick of things. Within the first week, I was already meeting with the CEO and giving presentations to potential investors. As a result of this, I have gained an incredible amount of experience and continue to learn more every day.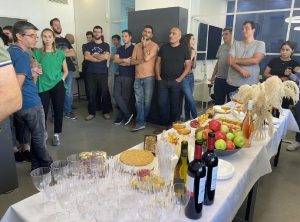 I have a wide range of tasks, but my usual jobs consist of reaching out and meeting with investors, editing the website, carrying out research, doing customer service, and more. While I conduct most of my work in English, I speak to my bosses and coworkers mainly in Hebrew; this new experience of navigating a bilingual workplace has improved my Hebrew skills greatly. Despite the large amount of work, the company does a good job of making their employees have fun working there too. For example, every Thursday there is happy hour after work and during the High Holiday season, they held a Rosh Hashana party full of cakes, wine, and gifts.
I have really been enjoying the working life and am grateful for the opportunity to get such a valuable experience.
By Maya
The past month has been full of non-stop activity. I find myself having five places to be and twenty things to do at any given moment. And while that may sound stressful and hard to manage, it has actually led to me having the most incredible first month in Israel.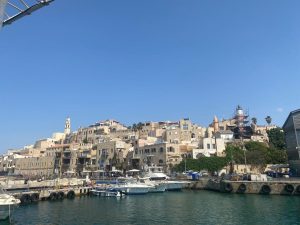 This month has been packed with introductions. I met 200 new people, visited five different cities, started interning at a high-tech company, and learned how to navigate Tel Aviv's confusing public transportation system. 
But despite the chaos, what I have really appreciated about this month was how much time I spent exploring new locations in my neighborhood of Tel Aviv. Even just within the first week of living here, I went to the Tel Aviv Museum of Art, walked through Shuk HaCarmel (the local market), took a surfing lesson at the beach, went on a boat ride in Jaffa, and found my favorite shawarma (a Middle Eastern dish) restaurant.
As amazing as Tel Aviv has been, it was also so exciting to travel to other locations in Israel because each place had something distinct to offer. In Jerusalem, I went on a tour of the Old City to learn about its unique significance to different religions and witnessed the emotional and intense Jewish prayers of Selichot at the Western Wall. In Haifa, I walked around the Bahai Gardens and visited a mosque to speak with an Ahmadi Muslim about his practices and beliefs. In Beit Shemesh, I hiked to a bat cave and then stopped by the Biblical Natural History Museum to learn about important animals from the time of the Bible.
I have so much left to uncover, but I slowly making my way through this magnificent city and spectacular country.