By Maya
The past month has been full of non-stop activity. I find myself having five places to be and twenty things to do at any given moment. And while that may sound stressful and hard to manage, it has actually led to me having the most incredible first month in Israel.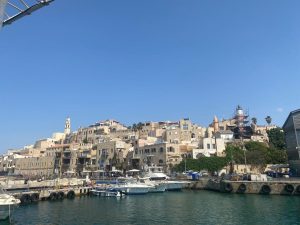 This month has been packed with introductions. I met 200 new people, visited five different cities, started interning at a high-tech company, and learned how to navigate Tel Aviv's confusing public transportation system. 
But despite the chaos, what I have really appreciated about this month was how much time I spent exploring new locations in my neighborhood of Tel Aviv. Even just within the first week of living here, I went to the Tel Aviv Museum of Art, walked through Shuk HaCarmel (the local market), took a surfing lesson at the beach, went on a boat ride in Jaffa, and found my favorite shawarma (a Middle Eastern dish) restaurant.
As amazing as Tel Aviv has been, it was also so exciting to travel to other locations in Israel because each place had something distinct to offer. In Jerusalem, I went on a tour of the Old City to learn about its unique significance to different religions and witnessed the emotional and intense Jewish prayers of Selichot at the Western Wall. In Haifa, I walked around the Bahai Gardens and visited a mosque to speak with an Ahmadi Muslim about his practices and beliefs. In Beit Shemesh, I hiked to a bat cave and then stopped by the Biblical Natural History Museum to learn about important animals from the time of the Bible.
I have so much left to uncover, but I slowly making my way through this magnificent city and spectacular country.