Home » Posts tagged 'Idaho'
Tag Archives:
Idaho
By Cate
It's hard to believe that a year ago at this time, I had no idea where I would be this year. I was still scrambling to finish my last few college applications… applications to schools in places I had yet to visit. Applications to schools that seemed like abstract illusions conjured up by my own imagination rather than real, physical institutions I could be attending the following year. Yet, even as I scribbled out those applications to seemingly far-off worlds, I never once imagined that this year I would be sitting here, writing about how I spent my last semester… in Boise. And even if I had imagined that (which I didn't), I couldn't have imagined it would be one of the best decisions I have ever made.
Looking back at my past semester, I am still amazed at how many various, unique activities I was able to participate in. Not only did I accomplish almost everything I had set out to do, but I was also able to take advantage of new opportunities I would have never even considered. I found my semester in Boise to be genuinely enriching and am surprised by just how much I enjoyed reacquainting myself with my hometown—and state—over the past five months.
Here's a quick recap of my past semester:
I interned with the Sierra Club of Idaho! Over the course of four months, I worked on restoring Idaho's wild salmon populations to healthy, sustainable levels and learned so much more about running successful policy campaigns. Through this internship, I gained more confidence in myself and learned how to self-motivate, as I was tasked with multiple independent projects ranging from student outreach to sponsorship recruitment for our Wild & Scenic Film Festival.
From September to early January, I worked my first real job at a casual diner in historic Boise: Sun Ray Cafe. My tasks included scrubbing tables, washing dishes, and taking orders. The real difficulty: pleasing customers. Never before have my customer service skills been tested so intensely, but I now feel confident in communicating with people in a variety of settings.
Starting in August, I volunteered for the campaign of Boise's first elected female mayor! Every Sunday, rain or shine, I was out knocking on doors and talking to Boise's registered voters. While every door was a new challenge (I never knew if I would be yelled at or greeted warmly), I found canvassing to be an incredibly empowering and fascinating way to share my opinions, as well as hear the perspectives of different members of my community.
I also continued my violin studies by participating in a local community orchestra called Serenata. This organization was extremely fun to be a part of with its welcoming community and its goofy concerts (ex: Werewolf Bar Mitzvah).
One of my favorite aspects of this fall was reacquainting myself with ice hockey. The last few years of high school, I was unable to play hockey due to scheduling conflicts with practices and an overwhelming amount of schoolwork. However, this past semester, I joined a recreational women's hockey league and, while rusty, I had the most amazing time. My teammates were all so kind. They even threw me a going-away party before I left for Ecuador!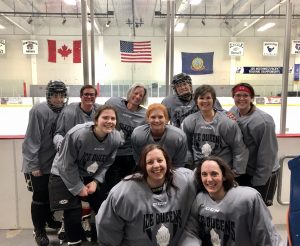 Hi! My name is Cate and this year I will be taking a gap year before pursuing my college education at Duke University in Fall 2020. By taking this gap year, I will get the opportunity to explore my interests, recharge from the stress of high school, and gain new skills that will be useful in my college career-and beyond! With this blog, I hope to keep you updated on all of my newest adventures and discoveries throughout the year. But first, let me tell you a little bit about myself.
I come from Idaho, also known as the land of the potatoes, and grew up with the mountains in my backyard. From exploring national parks all across the West to learning to fly fish in the Boise River, I've enjoyed spending time in nature from the very beginning.
Upon reaching high school, this love for the outdoors expanded into a love of science and inquiry as I took my first chemistry and biology classes. As I look toward my future college career, I'm hoping to continue my scientific inquiries and study biochemistry. However, I'm still unsure as to where my path may lead and am excited to explore my interests further during this gap year.
While planning my year, I decided that I really wanted to delve deeper into topics and interests that I really didn't have the opportunity to explore much in high school. By thinking about these interests, I formed a plan for a year that will hopefully lead me toward better understanding myself and my goals for my future at Duke.
As I mentioned above, one large part of my identity is my love for the outdoors. In high school, I didn't explore many of the opportunities regarding nature and the environment. So, to begin my year, I will focus much of my attention on environmental policy and start an internship at the Sierra Club Idaho Chapter. Through this internship, I will explore local environmental issues and learn how to run effective political campaigns. During my time in Boise, I will also be training with a professional grant writer. Throughout high school, I worked to establish a summer camp called Young Maestros, a fun summer orchestra experience offered to underprivileged elementary and junior high schoolers at no cost. For the past several years, Young Maestros has relied on donations from parents and other community members. My goal is to learn how to write grants in order to make Young Maestros more self-sufficient and to provide more resources to the students.
The second part of the year, I will embark on a 4-month trip to Cuenca, Ecuador as a part of the Amigos de las Americas program. While in Ecuador, I will take Spanish immersion courses through the Amauta Spanish School and have an internship with a nonprofit agency focused on biodiversity and sustainability. During the semester, I hope to build my cultural awareness, along with leadership and Spanish language skills, by living with a host family and attending different cultural workshops. To prepare for this trip, I plan to take Spanish language courses at a local language school. Throughout high school, I took German language classes; however, learning Spanish has become a goal of mine and I look forward to working on my language skills throughout the entire year.
In pursuing several different experiences during my gap year, I hope to explore some of my passions and hopefully even discover more. Whether it be studying Spanish in Ecuador or learning more about environmental policy with Sierra Club, I hope to go into my freshman year of college more confident about what interests of mine I should explore further.