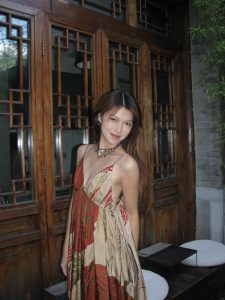 Hey! I'm Wendy Chang, hailing from Claremont, California, and Beijing, China! I've decided to hit pause on the regular teenage hustle and take a gap year—all in the name of some much-needed self-love and reflection.
This is my year to soak up the world around me, indulge with myself, and basically be the captain of my own adventure. With my strong passion for the visual arts, I am eager to immerse myself in the diverse aspects of the art world, including the curatorial process, exhibition planning, art acquisition, conservation, and nonprofit projects. I've already kicked off my gap year with an internship at UCCA, a leading contemporary art institution. Next on the agenda? A 6-week Art History course in Italy. I'm a mix of nerves and excitement as I prepare to meet new friends and learn from amazing teachers in a brand new environment. Family time is also high on my priority list this year. My boarding school days meant that I didn't get to be the best daughter and sibling, so I'm making up with some quality family adventures. To wrap up my gap year with a bang, my friends and I are gearing up for a NOLS program in Alaska the coming June. I am determined to embark on an outdoor adventure that pushes both my physical and mental limits, and I think mountaineering in Alaska might be the perfect one! By immersing myself in the challenges and triumphs that come with such an experience, I believe I will be better prepared to navigate college life, fostering personal growth, self-discovery, and cultivating a mindset of unbounded thinking.
I hope this year will end with me knowing a little more about myself, trusting a little more of
myself, and perhaps, becoming a little more determined on the areas I would want to explore at
Duke!