Home » Posts tagged 'tutoring'
Tag Archives:
tutoring
By Camille
I have had exactly one math tutoring session in my life, and I remember it in vivid detail. Sitting across the table from my tutor, I could feel the heat rising in my face as I struggled to answer one of the questions that he was posing. A million thoughts began to crowd my head: "I'm sure he has the answer in his head by now"…"He knows I'm here for help, so why is he letting me sit here for so long"…"I wonder if his other students can answer this"…"Why can't I just figure out the operations I need to do to get the answer". By this point, the storm of thoughts had made it virtually impossible to focus on the question at hand. As this whole saga was unfolding in my mind, my tutor stared at me from across the table, stone faced. I wasn't used to being lost in math, actually quite the opposite. A year prior, I had made the decision to enroll in a pilot class that combined Algebra II and Pre-Calculus into one year. We sped through some of the curriculum, and I was left with holes that were beginning to show through in my Calculus class. These days, my mom and I laugh about that day all the time, reminiscing about the fact that I showed up at the car red as a beet, an unfortunate side effect of being in the hot seat. In the moment, however, I vowed that I would never go to another tutoring session again, even if that meant putting in ten extra hours to learn each concept on my own.
It is with this story in mind that I show up to Mathnasium every day. I have been working there since mid-July, doing both administrative tasks and a lot of teaching. While I tutor math that ranges from kindergarten all the way through Calculus, there is one common thread that runs through all my sessions: I never want the student to feel like they can't tackle the concept at hand. This often means coming up with an alternate explanation when my first approach doesn't work. Whether that means drawing a picture, using physical objects, graphing in Desmos, or showing a diagram off the internet, I strive to teach in a way that works for the student, using approaches that make them comfortable.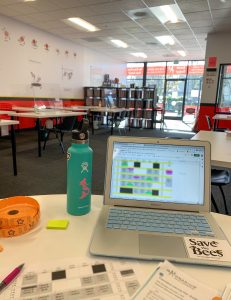 I know from experience how frustrating it is to be lost, squirming in your seat when faced with an explanation that seems like code. I can imagine how that feeling could spiral into indifference for kids who experience it every day in class. I also know that many people write themselves off as bad at math when that's not really true. The real issue is that they've never understood the concept in a way that clicked. It is incredibly rewarding for me to watch the transformation when my students realize that they don't have to view themselves as inherently bad at math.
By Valerie
What initially came across as a brilliant scheme, however, was thwarted by messy realities.  
Head throbbing and eyes sore from excessive screen time, I had to muster every fibre in my body to keep myself from spontaneously combusting. For the umpteenth time, I explained the concept with labored enthusiasm, struggling in vain to suppress the growing frustration in my voice and hoping without much faith that the information would finally be retained.  
It was with naive optimism that I began tutoring, certain that the learning techniques I had painstakingly accumulated over the years would be the panacea for my tutees' academic woes. I would share my know-how, enlighten young minds and bear proud witness to their meteoric improvements, glorying in my efficacious ways.  
Time was a scarce commodity and attention even more so.  
Well-intentioned attempts to cultivate genuine interest and provoke critical thought met with perfunctory regard at best, unable to prevail over a deep-seated institutionalized fixation on grades that I, at times, found myself capitulating to against better judgement.  
Upholding formalities with teenagers just a few years my junior felt strange and discomfiting. But I was also wary of striking an overly casual tone for fear of relinquishing too much authority. It was a delicate tightrope act, each relationship with its own dynamics to navigate and balance to maintain.  
Teaching bristled with its own challenges. I blundered often, my calculation errors and misreading of questions sending my poor tutees into an unnecessary spiral of confusion and self-doubt just when they were certain they finally
had it all figured out. 
At times, sudden and unexpected mental blocks left me floundering helplessly in the face of simple word problems, ashamed and disheartened. Articulating complicated concepts for the first time was daunting. I struggled to find the appropriate terms to replace convoluted technical jargon while retaining their essence. My disorganized verbalizations did scant justice to the intricate yet systematic networks of mental connections upon which my understanding was founded.  
I tried as much as possible to refrain from imposing my own expectations on my tutees, careful not to overstep the fine line separating the personal and the professional. But it was difficult not to feel disappointed when the results were not commensurate with the effort. 
Over time, I realized that progress could hardly be measured in terms of trifling numbers and alphabets on performance reports. Though I was powerless to diminish the pragmatic significance of standardized test scores, I sought to emancipate myself and my tutees from the tyranny of metrics by celebrating intangible and unquantifiable successes. 
I was still far from proficient at teaching but certainly more skilled than before. Leveraging on the benefit of familiarity borne out of hard-earned trust and well-established rapport, I tailored my pedagogical methods to suit each tutee, slowing down or speeding up at appropriate junctures and employing the use of visual aids and textual references if necessary. Lessons were strategically scheduled on the weekends, when minds were well-rested and functioning at peak performance. Time, though still at a premium, was maximized with more effective teaching and learning. 
Tutoring has been unexpectedly frustrating, humbling and rewarding in equal parts, being as much a test of my intellect as a trial of my emotional intelligence. I am still lacking in many ways but my tutees constantly propel me to improve. I look forward to our collective growth in the coming months.  
By Christina
Long-term planning during a global pandemic presents challenges.  We have all asked ourselves what the world will look like in a month and a year.  Will elbow bumps replace handshakes?  Will meetings continue on Zoom?  Will travel return to normal?  There is a lot we don't know, both about the future and the virus, and trying to plan a year in advance is essentially impossible. 
I established my gap year goals from the beginning: travel and develop new perspectives, engage in meaningful local service, and participate in activities I love.  I had a set of plans that fulfilled these goals, beginning with an internship at a software company in Ho Chi Minh City, Vietnam this fall.  However, the virus rendered my plans impossible, and I struggled to accept this fact.  The next year of my life was completely swept away by the virus, and I was left stunned. 
Then something clicked: I realized my initial fall plans were hopeless.  That total defeat allowed me to move on and see the opportunity that lay elsewhere.  I jumped to action and, knowing I needed money to pay for my gap year, I pursued and got a job at a restaurant serving takeout.  I started reaching out to anyone and everyone of interest, from my high school's volunteer coordinator to politicians around the country.  Plenty of my emails went unanswered, and I received many no's, but the number of people interested in helping me was shocking and a welcome surprise.  I pursued every opportunity available and of interest to me.  I began to realize that the pandemic gave me the opportunity to reevaluate what is important to me.  I had the chance to start over and examine what work would best allow me to achieve my gap year goals.  Being limited in location allowed me to see how much I don't know about Atlanta, where I was born and raised and still live.  I plan to support and contribute to my local Atlanta community this fall through service and work.  I am getting certified to teach reading through Reading is Essential for All People, or REAP. 
I plan to conduct free tutoring sessions for students, particularly for students at an under-served Atlanta elementary school that I have volunteered with in the past.  I have worked and will continue to work with their teachers and staff to support the school in the midst of the pandemic.
 I am working as a research and teaching assistant to an Emory University instructor teaching healthcare management.  I contributed to her business case study about a telehealth company in the pandemic that is in submission for publication in a peer-reviewed magazine. 
 After about two months of reaching out to MJ Hegar's team (US Senate candidate in Texas), I now am a remote finance intern on the campaign.  Having lots of family in Texas, I see the diverse needs of people within the state and am delighted to support an American hero fighting for the everyday Texan.  My plans look nothing like they did five months ago, but I am excited to be involved with and serving communities of importance to me, particularly Atlanta.  After countless emails, interviews, and phone calls, I now have a plan that reflects what I want to achieve. 
 The pandemic has reminded me to embrace the flexibility of a gap year.  I am constantly learning and have the freedom to shape my gap year around what I learn, steering myself towards the person I want to be.  I anticipate a lot of my ideas about my gap year will change over the course of the year, but I look forward to constantly adapting and uncovering new opportunities.