Home » Posts tagged 'Outward Bound'
Tag Archives:
Outward Bound
By Leah
I just got home from a 50-day Outward Bound course, backpacking and canoeing through Big Bend Ranch State Park and Big Bend National Park. It was more complicated and exhausting and rewarding and wonderful than anything I've ever done before. I've decided that the best way to illustrate this experience for y'all is to share a series of excerpts from my journal with you–the greatest hits from my nightly debriefings and self-indulgent ramblings. This is the second of two installments–my time in the desert, from November 16 through December 6:
Nov 16
Today was a good day. We drifted into Mariscal Canyon and down two named rapids. It wasn't easy, but everyone managed to stay dry–no dumps.
We made camp at a place where two canyons cross. Then a game of camouflage, and shrieking and laughing and diving headfirst behind rocks and into cacti, and our dirty tattered selves dragged our feet back to fried rice and rehydrated chocolate pudding and a roaring fire. The sun fell behind the canyon wall early, but kept glowing through her high orange curves. As afternoon faded to twilight, the haze in that twist of the canyon glowed golden, then finally crept away. We tucked each other in under tarps–it will be a very cold night.
And now I'll read another chapter of my book and listen to the quiet sounds of camp–there's a game of hearts going on several feet away. And the Milky Way will turn above us (or, I suppose, us below it), and tomorrow will come like every other day before and after it, and I will wake up early to help light the fire.
Nov 18
I woke up at 6-something to the sound of a bell ringing. It was tied around the neck of a horse–a small herd had wandered into our camp. It rang lazily for 20 minutes, or maybe 20 seconds, as I drifted in and out of sleep. Either the dewy morning started to turn blue-gray with mist and slowly rising sun, or I was just in a fog from my own half-consciousness; but for a moment, the desert was lush and the air was cool and wet, and two white horses stood over one of my friends as the bell floated in and around us.
And then the spell was broken–a headlamp was bobbing up and down, and someone was whooping and running. And the bell stopped for a second, then pounding hooves and crushing river cane, and silence again.
Two of us woke up early to the sunrise, and we made the fire and I poured chai powder into mugs and he poured boiling water and coffee into them, and people yawned and stretched and lifted their tired selves into the circle. And the morning went on, until it wasn't new anymore.
We carried our things out of the clearing and through the river cane and down the steep muddy bank, and half of us stood waist deep in the water as the other half lowered helmets and paddles and pots and pans and buckets and ropes and clothes down to them and into the boats, and heavy things were tied to things that will float, and extra paddles were pinned in under the thwarts. And we floated down the river, and the river floated through those ancient crumbling rocks, slipped between them, slowly coaxed them out of its way.
And soon we were at camp. My sleeping mat thrown into a ditch (the best way to sleep on the riv is cradled in a ditch). The instructors joined us for our last dinner on the Rio, and we sat close together bundled up around the fire, headlamps off, quiet voices. A pack of coyotes howled upstream. Another pack started howling downstream.
We talked about what the river means. A water source, and transportation, and a livelihood. Dividing where you can camp and where you can pull over for lunch or to scout a rapid. Dividing identical desert into two arbitrary portions–when my boat flipped going down that rapid, and we were soaked up to our chins, and our things were floating down the river, and all we knew how to do was panic, we didn't swim to shore in Mexico or the United States. We swam river right. The river was just the river, and the banks were just the banks.
We talked about paddling through Santa Elena, the layers of sediment forming wrinkles and age lines in the rock, the canyon walls shooting up above us–way up above us is where the water used to be, an incomprehensibly long time ago. And incomprehensibly far in the future, if whatever comes after humans happens to paddle down the Rio Grande, maybe they will be able to look up, up, up, and see how high up we once were. The river is a giant calendar, a clock, on a scale that we aren't built to wrap our heads around.
Nov 21
Up at 5:30, and we packed our bags and tied them into the trailer and loaded ourselves onto the van. I'm one of the leaders for the day. We set off down a broad wash as the sun gradually made her appearance over the canyon walls.
Lunch was right before a narrow part of the canyon–high dark walls, and twists and turns, and soon after there was clear flowing water and trees and plants and all lush green as we picked our way through the pools–the most beautiful place I've seen out here yet–and the trees were so tall, and leaves crunching under our feet, and the pebbles in the streams kaleidoscopic blue and green and red.
Then we left the narrow bit and trekked on through washes lined with smooth slabs of mint green rock, filled with bright orange gravel. Just as we started to lose the sun, we found Oso Spring–fresh, clean water. And by "clean," I mean not too much decaying matter to purify using iodine, and the beetles living in it looked happy and healthy. We filled our droms, and I switched sunglasses out for normal glasses and grabbed my headlamp.
After the spring came a complex network of washes, dividing and going every which way. By the time we got to the first fork, we had already lost the light. Not all washes are marked on the map, so usually–in the light of day–we use landmarks to make sure we're going the right way. That's not an option in the dark. We wove through the washes, not quite sure if we knew where we were. The terrain looked almost like the shutups from week one–narrow, and bouldery, and every 20 feet (or less) we had to stop to either scale some formidable rock formation or bushwhack through.
We blindly groped our way through the dark. Packs on, packs off, passing them up through the crags, hands sliced open on cacti. I distracted myself by making sure everyone was okay, and looking at the map, and smiling and saying how close we are to a theoretical campsite that I had no idea of the location or existence of. And "everything's going to be okay," and "soon we'll have the best dinner and the best night's sleep of our lives," and "thank you all for your patience; you're doing amazing," trying to convince myself of those things more than I was trying to convince them.
Then one last push, up one last narrow pass, and either side of us began to flatten out. Packs off. We're scouting ahead. And we stepped up onto a flat but shrubby spot, and we wandered, and finally (finally) we came to a clearing. It was the most beautiful campsite we'd ever seen–overrun by cacti, barely any room for our sleeping bags, but the most beautiful campsite ever. We rolled in at around 9:00. The chefs started cooking–it was the most delicious dinner I've ever eaten. And now, somehow, it is 12:03. Tomorrow, we walk 12 miles–for real this time.
Enjoy it–the hardest days are, invariably, the best.
Nov 23
We woke up, and made pancakes with margarine and honey, and turned off our alarms and handed in our watches, and turned in all of our books, and made a pile of our bowls and mugs and group gear.
And then we walked for a moment, and now I am here, alone, on solo, for two nights. There is the wind, and the mountains, and the sun on my back. I hear a bird somewhere, and maybe a cricket. No–two crickets. I set up a shade structure, which is currently fighting the wind. And now, I sit.
It must be midday by now–a while ago, an instructor dropped off my food for until tomorrow night. It's not much–one smallish bag of gorp. I'll save it for dinner tonight and breakfast tomorrow.
I found some rocks that I like, but I'm not done looking.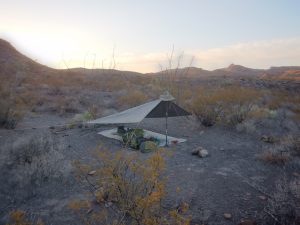 I just moved my tarp and set it up as a tent in a flat spot.
The sun is behind the mountains now. Her last moments really were something. Green and gold on the mountains, a meadow of prickly pear and sotol and creosote and ocotillo transforming the desert, however briefly, into a lush and beautiful and perhaps even forgiving place. If I hold my breath, there is absolute and perfect and beautiful silence. It's just me out here–just me, and the mountains, and the knowledge that in 24 hours, someone kind will be here with a hot dinner.
Nov 24
I've woken up–probably by magic?–just as the silhouette of the mountains in the east begins to get sharper. I dreamt that someone was saying that the sun was about to rise, and opened my eyes, and sure enough, it'll probably happen in about 20 minutes. I will put my shoes on, and a coat and a hat, and I will drink water, and I will go sit on top of the rock and watch the day begin.
I sat and watched until finally the sun climbed over the mountain and rested on me. And now I get to spend the rest of my day watching shadows shorten, and lengthen, and melt away.
I tried to set up a shade structure, and battled with the wind for a while, and lost. It felt like I was trying to lasso a parachute. But after resting for a while, a few hours maybe, I finally decided to get it done. I may have won this time, but it doesn't feel like a permanent victory.
I found my favorite rock. I finished my bag of gorp. This evening one of the instructors will bring dinner, and then I will go to bed (under the stars this time, I think–it's too windy for a tarp), and tomorrow one of them will come to get me and we will all be together again. I wish I could stay out here longer. I'm glad that I have to leave while I still feel that way.
Nov 25
I woke up before the sun again. Convinced my limbs to carry me out of my sleeping bag, and drank some water, and packed everything really quick. So my pack was set up in the smooth gravel patch, and the sun was just about to rise, and me and my water sat up on the rock and watched the sun come up–watched the shadows materialize.
And 7:00 came, and an instructor came over the hill and told me it was time for everyone to be together again. And I made my way down the hill, down the wash. And other people began to filter in silently (we had all sworn to be silent), and one of us took drink orders by gesturing and waving bags of powders around, and soon we were huddled there quietly with warm mugs in hand, huddled together in our suddenly broken loneliness.
Nov 26
Woke up to good mornings, and Happy Thanksgivings, and a world that felt very cold compared to my fetal position cocoon in the bottom of my sleeping bag.
Today someone found a perfectly intact shell in the sand. Like a snail or some other ocean-dwelling creature. Perfectly smooth and white and spiralled, and maybe less than an inch long. Many, many years ago, longer ago than we can comprehend, an animal lived in that shell under the ocean. And after hundreds of millions of years of it being sifted through the sand as the landscape around it turned from seafloor to desert, it ended up between her thumb and pointer finger.
Nov 27
Up at 6:45 to a purple sky, and a line of gold melting over the horizon where the sun could cut through the clouds.
And piling into the van, a couple hours to the national park.
Today was our real Thanksgiving–we had cranberry sauce and turkey and mashed potatoes and stuffing and gravy in our resupply. After we finished shuffling trash and food and med kit supplies between our packs and the van, the 10 of us sat close in a circle and ate and said what we're all thankful for.
The Chisos are on the horizon–incredibly permanent in contrast to everything else around us.
And despite their permanence, we are always surrounded by those same violent forces that rip the mountains out of the ground and crumble them back into it. And somehow we argue about bowls and food and time. And the mesa is in the distance now, neatly sliced into her two portions. The mountains would be embarrassed for us if they knew how much we fight over them.
Tomorrow, independent final begins. We'll see a lot less of our instructors–they're not traveling with us anymore. We'll run into them at lunch, and we'll meet up with them when we find camp for the night, but during the day they'll be shadowing us from a couple miles behind, and after we meet up in the evening they'll keep going and find a campsite out of sight.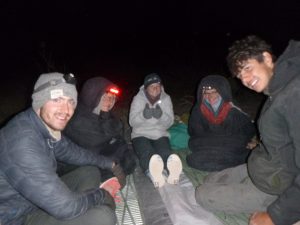 Dec 1
We were technically on trail all day, but it wasn't maintained. Guesswork weaving through a system of washes. At one point we went hours without seeing a cairn–so much relief when one finally came into sight.
By the time we made it 5 miles, it was already mid-afternoon. 6 more miles to the next spring, and no hope of navigating there after dark. So we squeezed a few more liters out of a puddle of bees and algae, then set off to find camp. We had to whip out the handline to climb up through the wash. And now we're nestled into our sleeping bags on top of a grassy hill–there are no clearings here. But it's comforting–it feels like being on the river, being cradled by the plants and the ground.
Dec 3
Up at 6:00 to all of our water frozen. But, thank goodness, a smudge of sunlight on the horizon.
The sun rose, but the Elephant Tusk left us in its cold shadow. We filled up at the spring, droms full of mosquito larvae, and left the trail and went up a mountain. Building a trail of cairns behind us to let the instructors know which way we had gone, and leaving notes for them to pick up–games and puzzles and jokes; little things that mean a lot now that we don't get to talk to each other much anymore.
These climbs are never easy. They're treacherous, and exhausting. But oh, the views. And the far off mountains, and the streaks of iron across the landscape, and the looking back at where we've been, all shades of red and green and blue.
And then we were picking our way down, and we stopped for lunch, and the instructors found us. And as soon as everyone was done eating we kept moving, the instructors giving us a 30 minute head start in the hopes that we wouldn't accidentally run into each other again until we made camp for the night.
Then climbing over rocks, and scooting on our butts, and stumbling (just for a moment though), and high steep walls around us. And eventually the walls fell away. An expanse of washes and small ridges was in front of us; a meadow of cacti and gravel and dust. And we picked a wash, and set off down it.
We traveled down the wash for a long time–rounding Elephant Tusk, and heading due east (or maybe a bit south, but who's keeping track?), and we lost sight of the cairns, and then it was dusk, and we should've been at the road by now.
We decided to make camp, and to triangulate our location before we lost the light, and to call into base if we didn't see the instructors soon. We found out where we are (it turns out a mile or two too far south) and started our normal evening routine. I saw in the distance what looked like it may have been a headlamp. And someone had just pulled out the sat phone to call into base camp and tell them where we were, but she put it away. We turned on our headlamps, and we waved them around, and we shouted and sang, and that far off light vanished down a hill. We hung a headlamp on an ocotillo so that they'd be able to see us the next time they got to high ground, even if we weren't looking towards them.
The light appeared again, in a different place. And we sang and screamed until it vanished again.
And then we didn't see the light for a while. We sat down to eat. And we passed spices around, and talked about our day, and cracked jokes, and everything else a family should do around the dinner table–or, in our case, from our sleeping mats in a circle around the two camp stoves. And we decided that if the instructors didn't reach us soon, we'd call base to make sure they were okay.
When the light appeared again, it was close enough to see that it was two headlamps, not one. We served ourselves seconds as they disappeared into another wash.
And then the two lights were nearby again, so near we could see them bob up and down with every step. And we shouted, and we jumped up and down, and our instructors emerged through the bushes. And they told us that they'd taken the trail that we'd tried to go on, and scouted for an hour when they didn't find us at our meetup time, then gone back to where they'd last seen us as we left the narrow walls at the top of this wash, and then seen my light and followed it here for over an hour. We offered them food and a place to sit, and they thanked us but declined (they're not allowed to accept, now that we're traveling independently), and they laughed and joked and moved on to their own camp.
Dec 4
Our last full day in the field–a final push to Glenn Spring, where we filled up then made the short walk to camp. We aired out our feet, and I handed everyone a mug of hot cocoa. The 8 of us made up a little ceremony for the end of our time in the desert–constructing one last cairn, and a few words to thank the wilderness, and now we are snuggled up in our sleeping bags.
Thank you, desert. Thank you for long days and freezing nights, for brilliant sunsets, and magical springs, and your desolate hills, for cradling us and pushing us on. Thank you for the smudge of Milky Way in the sky–just a suggestion that maybe (maybe) there is something bigger than us.
I hear a few drops of rain falling–just a few. And a chunk of snowy ice just fell in here with me. It won't truly rain tonight. But somewhere out there, it is raining–the washes are filling with water, and the small creatures hiding in their holes. Maybe a rock that hasn't moved in thousands of years will be pushed a fraction of a fraction of an inch closer to the Rio. Or maybe not.
Dec 5
I woke up in the middle of the night to quick footsteps and headlamps and a sound like someone tapping on my tarp. And someone shouting over the wind–"it's raining; lightning and thunder are 30 seconds apart; put your tarps up!"
And I lazily pulled my tarp over me and my things like a blanket, and the hail fell, and the lightning didn't get too much closer, and we lay like that under the dark sky as the desert screamed her final goodbye.
Then it was morning, and we were in the van, clinging to each other as we drifted in and out of sleep–about 2 hours to base camp, driving through the national and state parks and into Redford and finally home.
Dec 6
Base camp, and a shower, and wearing my normal clothes for the first time in 50 days. We had our graduation ceremony–just the 10 of us. Eventually it was 9-something in the evening, and some people went to sleep, but a few of us students and both of the instructors sat close around the fire, and we talked about everything for a few hours.
And now the quiet conversations are over, and everyone's gone to sleep–I can hear their breathing evening out, one last time.
One last night in a sleeping bag, all my layers on, the top plugged up to trap in the warmth. One last night with all of these stars strewn across the sky–more stars than I have names of numbers to count them with. One last night knowing what I have to do tomorrow. But that's okay. There will be other places to go, and things to see, and people to miss.
Goodnight. Sleep warm.
By Sofia
I've said before that I signed up for my Outward Bound course looking for adventure—for something to do. Thankfully, I got more than I expected out of it. My greatest takeaways were a sense of perspective and an understanding of what I can endure, what I can overcome.
Stripped of almost every comfort I've relied on in my lifetime—a hot shower after a freezing day, a plush bed to snuggle into, a familiar support system, a stocked pantry—I came to realize the aspects, and people, I found essential in my life. The things I don't want to live without. I came away with a greater confidence in the relationships I value most, and a desire to express to those people how much they have impacted me. Other comforts, even ones I once deemed absolutely essential, faded into irrelevance.
It was difficult to discern what aspects of my daily routine bring meaning to my life and which detract from my ability to live thoughtfully and purposefully. These realizations center me. My intention now is to act upon these conclusions—to express more honestly and frequently my appreciation for others and to require myself to give up some unproductive comforts.
Having left the desert, I'm trying to remind myself of the healthy habits I began on course. I'm far from perfect, but I'm already seeing the benefits of this conscious effort. I'm being more conscientious about prioritizing the relationships I value (including my relationships with the amazing people I met on course) and I'm so far managing to stray from old bad habits (like scrolling endlessly through social media explore pages).
I'd love to sit here and tell you that I'm 100% zen and productive all the time, but that'd be a lie. I purposefully allowed a "break" in my gap year activities between Outward Bound and whatever lies in my future so that I could relax for the holidays and prioritize family time. Much to my chagrin, this break clashes with my newly invigorated desire for a purpose (see my last blog post) and I'm looking for something to do. I don't have the slightest idea of what that could be, but if COVID has taught me anything, it's to be flexible and seek alternatives.
How I'm spending some of my free time now:
Reading a lot (and actually finishing books)! I used to have a very bad problem of reading 95% of a book and accidentally starting my next great read before finishing the one before—oops.
Cooking, of course. I've turned to the science of pie-making in preparation for Thanksgiving, so far I'm about two hours into a series on the theory of crust making. Plus, it's an excuse to invite my best friends over for (socially distanced) taste tests!
Practicing my language skills. I've started taking online classes in French, desperately hoping that my gap year will still end up taking me there. Also, I've started learning Portuguese on Duolingo simply for the added fun of being able to read a language but not understand a single spoken word—the complications of knowing a romance language and a half?
Shamelessly fueling my coffee addiction with my old barista skills.
With all that said, the question that I'm struggling with is one that every gap year student has to answer: how busy is too busy? Whether you're on one, planning one, or reading this blog for fun, my advice is to be ready to admit when things aren't going as expected. For me, I didn't plan enough things to do—well, COVID made them not pan out—so here I am, adapting.
By Sofia
Before you begin, let me explain. I just finished a 50 day Outward Bound course. 50 showerless, uncomfortable, incredible, challenging, absurdly fun days. In retrospect, this was the most fulfilling experience of my life, but a challenge like this is one that cannot be overcome without reaching immense highs and lows, without pointed self-reflection. Purposefully designed for this kind of reflection was our solos—two days camping completely alone, with no source of entertainment except a pen and paper and absolutely no tasks or expectations.
With that, I give you a solo reflection, transcribed (and gently edited) from the pocket-sized journal I carried with me every day.
Day 32:
I haven't yet been able to express why I'm here on this trip—what makes it worthwhile for me. When I found this Outward Bound trip many months ago, I had two priorities: plan a gap year, and make it interesting. I knew I loved the outdoors and I desperately wanted an adventure, so this course seemed perfect.
174 river miles and hours of brutal desert hiking later, that isn't enough anymore. I'm aware of the fact that there's a greater lesson to be learned here—that one thing that I will look back on as my greatest growth—and I'm thinking that it may simply be a sense of purpose, a drive to set and achieve goals.
I've come to the conclusion that all throughout high school I lived my life adhering to my two main goals: try hard in school, get into a good college. Though it is a gross oversimplification of events, this meant that I focused almost exclusively on my immediate tasks and workload, striving towards unquantifiable goals with the persistent question: How good is good enough? For years, that purpose sufficed in keeping me motivated, thanks to an ever expanding workload and rather lofty standards for my own success. I'd be hypocritical to say that these are unworthy goals, I have a similar set of expectations for my college years, but I've come to the realization that exclusively setting broad, long term goals for myself was extremely stressful and unfulfilling. Benchmarks, and any accompanying sense of achievement, were subjective and few and far between.
Six months ago, when quarantine hit and I graduated high school, my goals timed out. I woke up every day lacking a purpose. The future was—and very much still is—entirely uncertain. My ability to set new long term goals for myself was non-existent.
Waking up on my first day of solo today, without anything to do for the first time in 32 days, I despise my desire to pass time as quickly as possible. It's a feeling that I know well, a reminder of the days I spent isolating at home, frustrated and bored out of my mind with nothing "productive" to do. I don't want to live without fulfillment, without short-term, achievable goals. I thrive on learning, achievement, and personal growth.
I realize that this change must come from an internal shift. It is more mentally and physically draining to be constantly striving towards something than it is to be unburdened by commitment, no matter how much more fulfilling it is. The way to inject purpose into my life, especially during unstructured time like a gap year, is to consistently set and work towards goals instead of allowing myself to be aimless. That is my big take-away, that I can make room for personal achievement without relying on the structures that have traditionally defined success in my life.
By Leah
After a couple of weeks of strict quarantine, I'm all packed up and ready to go for the next part of my gap year! 
 I'll set off early tomorrow morning for the first leg of my four-day drive–I'm going from my hometown of Alexandria, VA, to Knoxville, to Little Rock, to Abilene, and finally ending up in El Paso. From there I'll meet up with my Outward Bound group, and we'll drive together to Big Bend Ranch State Park. Then, from October 19 until December 7, I'll be backpacking through the desert and canoeing up the Rio Grande.  
I can't wait–I've never spent 50 days away from home, let alone 50 days in the wilderness with only nine other people. My goals are to learn about surviving in the great outdoors, get stronger, and get close to the other students on this trip, all while experiencing one of the most beautiful corners of the United States. 
 It's all seemed very abstract to me up until now–I've spent months looking for the right gear and breaking in boots, but it's taken me a while to understand exactly what this trip will be. I think I've finally truly realized that all these layers of long underwear and extra rain jackets and nylon pants will actually be worn, by me, in a far away but very real place. I just can't wait to be there! 
 It took a while to pull all the things that I'll need together, but I've actually managed to pack pretty light–basically just a couple of pairs of pants, some t-shirts, a warm jacket, and plenty of socks and long underwear. Other than clothes, a toothbrush, journal, and camera are all I need. Hopefully I'll come back with some great photos and stories to share!  
 We won't have phones out there, or internet or TV or newspapers, so the never-ending stream of information that I've enjoyed for the past several years of my life will finally be interrupted. After three months interning with a firm that produces political campaign ads, it feels crazy to imagine being so separated from the world of politics and constant breaking news. I hope there will be a way for me to find out if the candidates who I helped make ads for won their races, and to hear about any other important things that happen. 50 days is a long time–I feel incredibly lucky to have this opportunity to get away, but also a bit worried to see what kind of a world I will come home to. 
 But for now, my most pressing concerns are simply making sure that I have all of the things I need and enough snacks for the long drive there. Best of luck to everyone else at Duke Gap Year Program in whatever you do for the next couple of months–I'll talk to you guys again in December! 
By Sofia
Today I embark on the first leg of my gap year—a 50 day excursion in the Southwest with Outward Bound. I woke up this morning, got a little misty-eyed saying goodbye to my family, pretty much cried saying goodbye to my puppy, and got in the car with my mom.
Our first stop was urgent care. Don't worry—nothing terrible happened—I just needed to get some stitches removed after a little accident in the kitchen last week. (Very amateur) Chef's tip: watch where your fingers are when using sharp knives, or maybe any knife.
From there, the trip was a go. My mom and I settled in and began the trip from the San Francisco Bay Area to the middle of Colorado. It's a lot of miles. We did the first half today, a solid twelve hours on the road.
In my house, road trips mean podcasts and in true fashion, my mom and I began listening to our favorite show—RadioLab. We stumbled upon "Octomom," detailing an awe-inspiring discovery of maternal love. As I learned today, almost every species of octopus dies shortly after mating and reproducing. Usually, octopus mothers starve themselves to death vigilantly watching over and protecting their eggs until they hatch—a process that usually takes a few months. This particular mother, however, endured far more than the typical months-long process. Almost a mile underwater, the first deep-sea octopus brooding ever recorded was ostensibly the longest brooding period on earth. For four and a half years, this octopus stayed in a state of  semi-consciousness as her body decayed, surviving only to protect her unborn young from attack.
Mixed in with the emotions of leaving home for so long and going on an adventure that is still so unknown to me, I became overwhelmed with gratitude. The reminder of the extents that parents will go to for their young undoubtedly reminded me of my own parents, and the sacrifices (though very different from Octomom's) that they have made for me.
My mother drove next to me while we were listening, graciously driving with me the twelve hundred or so miles across five states to get me to my Outward Bound trip. This week-long trip is the latest of many efforts, and genuinely, I'm not sure I thank them enough. With the complications of planning and executing a gap year plan (especially during COVID), it's easy to get caught in the small stuff—disagreements, different expectations and ideas—but I recognize that without them, I couldn't do any of this. Undoubtedly my gap year has been encouraged, enabled, and supported by my parents. Thanks to them, I have enriching things to fill my time, safe places in which to do them, and the guidance to navigate important decisions.
By Leah
Unpredictability will be a major theme this year for all of us, and I've already gotten my first taste of that in the form of a major change of plans this fall: originally I was going to be on my way to the mountains of North Carolina right now, backpacking and canoeing with Outward Bound for two months. Instead, I'm writing this from my desk and won't be leaving town for another four weeks. Outward Bound's NC office announced that it is unable to offer programming this fall, and I've been transferred over to their Minnesota office.  
For a few days, I thought that I would be going to MN in September. Then I got another email–they weren't able to meet all of the requirements to run that program, so I was given the option to transfer again, this time to a program in Big Bend Ranch State Park in Texas. Now I'm planning on being gone from mid October through the first week of December–we'll spend 50 days backpacking through the desert and canoeing on the Rio Grande. I've never been to Texas or spent much time in the Southwest, and I can't wait to experience such a beautiful part of the country! For now, I'm preparing for this trip by exercising regularly and gradually increasing the distance I can walk with a weighted backpack.  
I've been able to extend my internship, and I'll keep working until I leave in October. When I wrote my last blog post I had just started working with this firm, and after only a month with them I've already learned so much. My job, in a nutshell, is to be on call to help a group of associates produce political campaign ads. This usually means scouring the internet for images and videos, or reading through speeches to find quotes. One of the most interesting jobs I've had so far was recording and transcribing a call with a client–it was fascinating to listen in and hear how members of our firm went about learning what they need to know to best help this person's campaign.  
At first I was nervous about starting this internship because it's completely remote–I was worried about learning to work with people who I've never met face-to-face, and starting a job without receiving any in-office training. I'm lucky to work with a team of incredibly nice people, many of whom started out as interns themselves and are always willing to answer questions and explain everything. One of the benefits of my Outward Bound program being pushed back a month is that I'm now able to stay with this firm through the first couple of weeks of October, which is their busiest time of the year. If everything goes as planned, I'll be in Texas and completely off the grid for all of November and the first week of December–that means not finding out how our clients do in the election until a month after it happens. It's going to be odd having no idea what's going on after being so involved for three months, so hopefully I'll see all good news when I get home! 
 Since I'm not travelling yet, I decided to give myself a bit of a change of scenery by moving my workspace up to the desk in my brother's room now that he's away at college. This is where I've been doing work for my internship, filling out paperwork for Outward Bound and (fingers crossed) a spring Where There Be Dragons program, and studying Chinese. I'm looking forward to continuing to work on the things that I enjoy and hopefully getting out to Texas in October, but of course, my plans could change completely in the next month. If they do, I'm ready–that's all just a part of the process this year.  
By Leah
I've only just started my gap year, but I'm already beginning to understand one of the most important skills that I'm going to develop this year: flexibility.
Under normal circumstances a gap year is an opportunity for spontaneity, adaptation, and occasionally allowing whims to take you wherever they will – it's not possible to carefully plan out your every move months in advance; that's what makes it so exciting! I feel like that effect has been amplified this year – now that the future of gap year programs and work opportunities and travel is uncertain, January of 2021 can feel like it's decades away and there's no way of knowing if things will be roughly the same, or if we'll be living in a completely different world. I've come up with plans and backup plans and backup-backup plans, and they will all undoubtedly require some modification over the next several months; there's a decent chance that I'll end up doing something completely different that hasn't even crossed my mind yet. I've established my long-term goals and expectations for the year with this uncertainty in mind: it's not exactly realistic right now for me to hope to get a specific job or go to any particular country; 2020 goals have to be a bit more abstract. My main focus this year is learning how to get the most out of every situation I find myself in.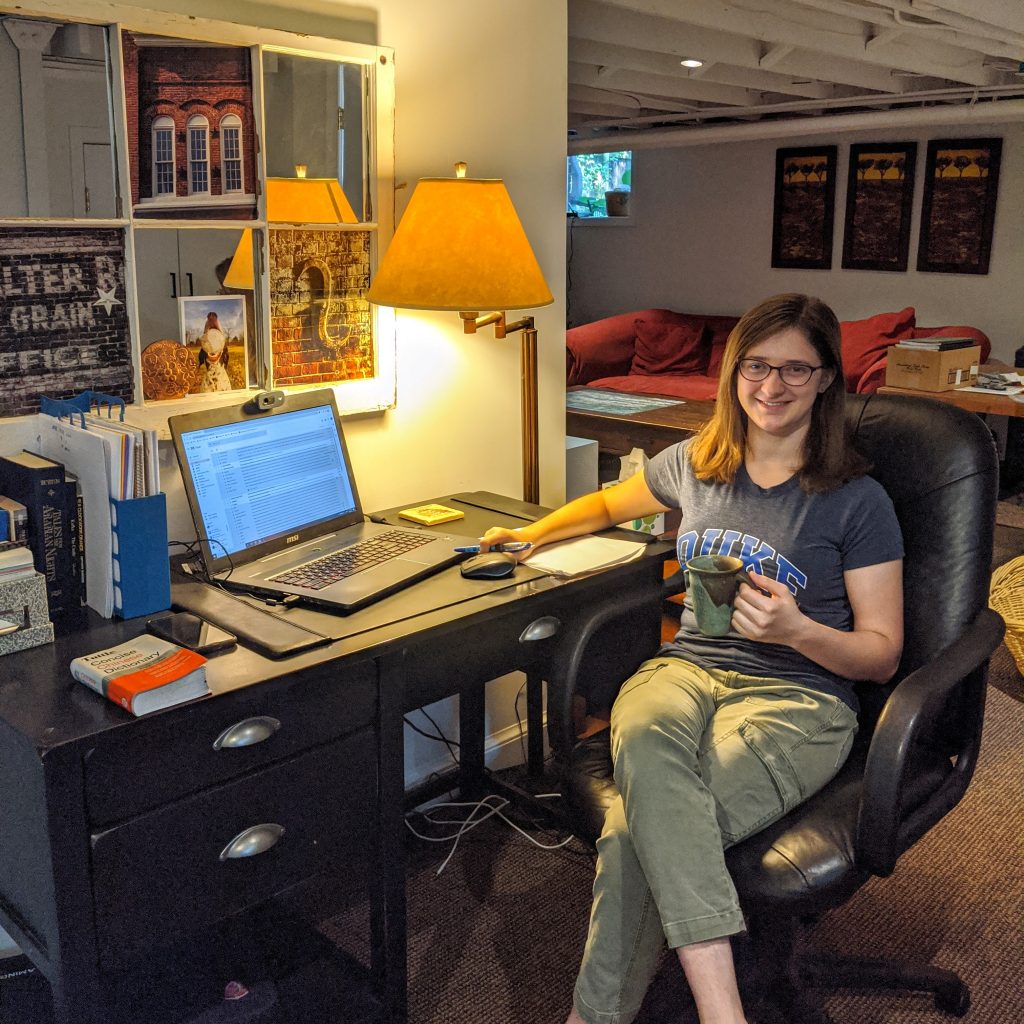 I'm starting off the year in my hometown of Alexandria, VA. This week I started working as a remote intern for a firm that creates political campaign ads. I'm working with one other intern as a production and research assistant supporting the work of four associates. I'm so excited to be involved with this work and learn about creating and conveying compelling campaign narratives, while playing a role in key races in this very important election year. I was nervous to start working with a team of people who I've never met and who I can't interact with in person, but I'm already getting the hang of things – the most important thing is to communicate and ask a ton of questions!
I'm also staying involved with my personal interests by taking lessons in Chinese language, horseback riding, and violin. My desk will be my home base for the next couple of months, as that's where I spend much of my time making phone and Zoom calls, doing work for my internship, and attending remote Chinese classes.
Towards the end of September, I'll wrap up my internship and travel to North Carolina Outward Bound to spend two months backpacking, rock climbing, canoeing, and kayaking. I'm working hard to keep myself in good shape so that I can get as much out of that program as possible – that means lots of long walks and time working out in our garage "gym"!
Right now my plan is to get home from Outward Bound at the end of November, spend some time with family, and then (hopefully) travel internationally in 2021, but I'm ready to adapt to whatever the world looks like in the coming months. I can't wait to find out what the next year has in store for me!