Home » Posts tagged 'farm'
Tag Archives:
farm
By Sara
Greetings from Marlborough, New Hampshire! The last time you heard from me, I was about to leave South Carolina on a multi-day road trip up north headed for Camp Glen Brook. Now, I am already more than halfway through the program, and I can't believe how fast the weeks have flown by. Before I arrived, eleven weeks seemed like an incredible amount of time to spend away from home; definitely the longest period away in my life thus far. However, the remaining month and handful of days now seem like an insignificant amount of time that is rapidly approaching, whether I'd like it to or not. My experience at Glen Brook, although not yet complete, has been one of the most transformative and engaging periods of my life.
When we first arrived in February, each of the nine "gappers," as we are called, had been quarantining at home for two weeks, and it took another ten days of masking up before we were able to enter the Glen Brook Bubble, a group of individuals who live on the property together and have taken specific and strict measures to keep everyone safe. Week one was our first intensive: Orientation. This involved giving up our phones when we arrived, not to get them back until the end of the first week. We also spent this first week getting to know one another, the land, and the daily ins and outs of living at Glen Brook. We learned to build fires, care for the dozens of chickens that reside here, use a wood stove, split wood, chop down a tree, and more. Again, it seems so long ago that we were first learning all these things. For the next two weeks, a period entitled Foundations, we continued building on those habits and daily activities that make life here at Glen Brook just that: Life. We attended Food Studies classes, carved wooden spoons with their bowls coal-burned into them, and we began some of our continuous classes. These include more cerebral classes, such as Society, Self, and Ecophilosophy.
Our fourth week here at Glen Brook was our second intensive and my favorite thus far: Orienteering. By the beginning of the week, we had packed up all our belongings into our suitcases once more in preparation of moving from the main house into the Hill House, our own home for the next month or so. All of this, minus what we had packed into our backpacks for the week, went into the parlor to wait patiently for us to return. On Monday morning, we moved down to a canvas tent by the lake, where we set up camp. Then, the real intensive began. Day one was an intro to orienteering: in groups of three, we used our compasses and maps of Glen Brook to navigate to three different coordinates and back to camp. On day two, we took it up a notch: we travelled to Pisgah State Park, the largest State Park in NH, where we split up into two groups, each trailed by one of our Gap Leaders, and had to navigate using our compasses and a topographic map of the area (no trails!) to two points in the park. Day three saw us in groups of three, this time without an escort, and we once more had to locate two points, the last of which was our meetup spot. The last day of orienteering was one of my favorites: the solo challenge.
Over the past two weeks, we've been taking electives in various subjects, including Land Conservation, Food Studies, Nature Writing, Hat Making, Bow Drills, and more! This past weekend was also our third intensive, a backpacking trip along the Monadnock Sunapee Greenway. Now that we've returned, our next two weeks will be full of manual work, since for our Deep Dive, we're going to be starting on some new cabins for summer camp! After that, we'll have two weeks of Apprenticeships (I'll probably be choosing Farm, especially since we are getting piglets soon!), then a week-long canoeing trip, then a few more days to wrap up and off we go.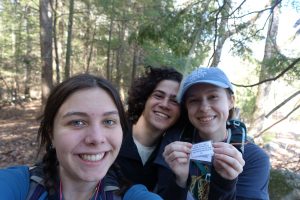 It seems so sudden to me that I can already see the end of my time here approaching. Although before I arrived, I was slightly concerned about whether I would feel excruciatingly homesick, the opposite has been true. Glen Brook has been an incredible experience with some of the best people I have ever known, and it will be a bittersweet day to say goodbye for now. I know, however, that Glen Brook has transformed me for the better, and the way I can pay back that debt is by going out into the world and spreading the message I have learned here: we are all persons of consequence, our human nature is wild, and by sustaining that which sustains us "we can learn to see our selves as made up of the world—and in turn see our role in making up the world."
By Sara
As I'm sure all of us can attest to, this year has been one of uncertainty. I certainly have had to grow accustomed to not knowing what the next days will bring, which has been a difficult shift from the certainty of a school schedule. However, I have realized that uncertainty can bring opportunities that would have been far from possible with a strict schedule. Over the past month or so, I have been able to pick up long-forgotten hobbies and start volunteering at an animal sanctuary I had always wanted to visit, but never had the chance to. This month has brought a lot of new developments for me, and I'm excited to share these experiences with you.
For the past few months, I've been working in retail, and recently decided to cut back on my hours to focus on some of the other things I had hoped to work on this year. For example, I had studied classical piano for nine years before putting it down in freshman year to focus on school and theatre. With more free time on my plate, I have been able to start taking lessons again, and the joy I have felt over the last few weeks from practicing has been indescribable. I've also been able to start taking guitar lessons and continue with my voice studies, which had been put on hold due to the pandemic. It has been interesting to see the measures the studio is taking to keep students and teachers safe, and I can definitively say that singing with a mask on is a very new experience for all of us!
  I also started volunteering at Cotton Branch Farm Sanctuary, a rescue for farm animals about twenty minutes from my house. They have a variety of animals, from roosters to pigs to mules, and they all come from different backgrounds. Some of them have special needs and require care that they can provide, some are rescues from hoarding or abuse situations, and some are livestock rescues. They need volunteers to socialize their adoptable pigs and take care of different housekeeping tasks, such as scooping poop and filling water troughs. If you're ever in the midlands of SC, come by and check them out!
My last exciting news for this month is that I have finalized my plans for the spring, and I cannot wait to get started on this new adventure. Come the end of February, I'll be headed up to New Hampshire for a program called Gap at Glen Brook. The program lasts 11 weeks, and is focused on personal development and responsibility, sustainability, and nature. I'm a little nervous about the weather, since I've only seen snow a couple of times in my life, but I know it will be a new and exciting experience.
I'm looking forward to continuing on this path and starting a new experience come spring. There will be more updates to come from me, so stay tuned! I look forward to sharing these new experiences with you.