Home » Posts tagged 'Ecuador'
Tag Archives:
Ecuador
By Cate
I'll admit it. My spring semester didn't go as planned. But then again, in this crazy year of 2020, whose spring has? I thought I would still be in Ecuador during this time. I thought I would be learning Spanish, giving art classes to students, and spending time with my Ecuadorian host family. I thought I would be exploring the downtown of Cuenca or hiking through the highland terrain of Cajas National Park. But here I am, back home because a global pandemic had a different plan for my gap year.
Of course I am disappointed that my time in Ecuador was cut short, but I am also incredibly thankful to have spent the two months I did learning and growing in an international setting. And that growth hasn't stopped upon returning home. It's been different for sure, but I've tried to continue my path of learning through online Spanish classes and conversations with my Ecuadorian friends and family members. But most importantly, I've been keeping up my "studies" of Ecuadorian cuisine.
During quarantine, it seems cooking (and baking) has become the new favorite pastime of many Americans. I have never been a cook (unless you count peanut butter jelly sandwiches and scrambled eggs as cooking phenomena), but I decided there was no better time than a stay-at-home order to try something new. Ambitiously, I decided to recreate several of my favorite Ecuadorian dishes in my American kitchen.
Surprisingly, with help from my family, we accomplished the impossible: a somewhat authentic, astonishingly tasty Ecuadorian meal. I've included my adapted recipes; in case you're interested or have the inclination to become an amateur Ecuadorian chef this quarantine. ¡Buen provecho!
Llapingachos: Potato pancakes
Ingredients:
6 russet potatoes, peeled
1 white onion, finely chopped
Typically, achiote is used, but I substituted 1 tsp cumin, ¼ tsp turmeric, and ¼ tsp paprika
Around 1 cup of mozzarella cheese, shredded
Salt and pepper
Vegetable oil
Flour, if needed
Steps:
Peel the russet potatoes and boil until soft.
As the potatoes are boiling, add oil and chopped onions to a skillet. Cook until the onions are translucent and soft. Pro tip from my mom: to keep them from burning, add a little vegetable or chicken stock to the onions as they cook.
Once the onions are soft, add the seasoning (cumin, turmeric, and paprika). This will create a refrito, or a "flavor base," that is then added to the potatoes.
Now, mash the potatoes until smooth and add in the onions.
Once mixed, shape the potato mixture into small cup-like structures with a pocket in the center. Fill this pocket with cheese and cover with more of the potato. Once fully covered, shape the round ball into more of a patty shape. If the potato mixture is too crumbly, try adding some flour.
When the patties are ready, cook them on a skillet until golden brown. This is probably the hardest step as the potato pancakes never really "firm-up." However, we found that using canola oil and heating it up before putting the patties on the skillet makes the process a lot easier. Don't be afraid to add a lot of oil!
I like to eat llapingachos with avocado slices and curtido recipe included below, but lots of Ecuadorians eat them with salsa de mani (peanut sauce).
Curtido de cebolla y tomate: Onion and tomato salad
Ingredients:
1 large red onion
6 tbsp lime juice
1 tbsp olive oil
2 large tomatoes
5 tbsp chopped cilantro
1 tbsp salt
Steps:
Cut the onion into very thin slices (we used a mandoline slicer) and place in a bowl.
Cover the onions with the tablespoon of salt and let it sit for about 10-15 minutes.
After this, cover the onions with water and let sit for 10-15 minutes again. Rinse the onions and drain.
Add the lime juice and a pinch of salt to the onions and let sit for 45 minutes. The onions should lose most of their acidic flavor.
Once the onions are ready, cut the tomatoes into thin slices (again, we used a mandoline slicer to get them thin).
Add the tomatoes, oil, and cilantro to the onion and lime mixture. Serve with the llapingachos and avocado slices.
Morocho: Ecuadorian sweet drink with corn
Ingredients:
1 can white hominy corn (can be found at most groceries stores in the Mexican aisle)
6 cups milk
3 cinnamon sticks
1/3 cup sugar
Steps:
Place the can of hominy (after being washed and strained) into a pot. Add the milk and cinnamon sticks.
Cook on low heat for about 3 hours, stirring every now and then.
After 3 hours or so, add the sugar and cook for 30-45 more minutes. The more time simmering will increase the cinnamon flavor.
Serve warm.
By Cate
Acostumbrarse. The Spanish verb for becoming accustomed to and also one of the first words I learned upon my arrival in Cuenca. Within those first few weeks of learning to live with a host family, speak a new language, and maneuver an unfamiliar city, I thought that I would never become accustomed to this strange new way-of-life. At times, I felt almost overwhelmed by the amount of challenges I faced on a daily basis. Luckily, within my first six weeks of being in Ecuador, I got to experience the levity and merriment of Carnaval, one of the biggest holidays celebrated in Ecuador and in South America. Due to this festival (and the copious amounts of pan con dulce de leche that I consumed), I was able to overcome many of the stressors of cultural adjustment and begin to truly enjoy the breadth of Ecuadorian culture.
Carnaval is a momentous occasion here in Ecuador. Back in January, when I first moved in with my host family, they were already discussing their plans for Carnaval: where we would go, what we would eat. It was not a matter to be taken lightly. In the weeks leading up to the festivities, our house became a storage center for water guns and cans of carioca, or party foam. Bottles of Coca Cola and Pilsener began to collect on our porch.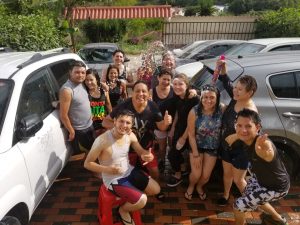 Then, on February 15th, about a week before the official start of Carnaval, my host family and I traveled an hour outside of Cuenca to the Valley of Yunguilla. Here, we met up with thirty other family members from all over Ecuador. For me, this was when Carnaval truly began.
Upon our arrival, and as we unloaded the seemingly endless amounts of food and drink from the car, several of my host family members began to set up a station where we were to "play Carnaval." I've learned since then that "playing Carnaval" can take many shapes, but for my family, it involved becoming a "human mess" and then eventually getting "cleaned" of all the gunk that covered us.
At first, I had no idea what was going on, but once my tío oh-so-gently threw chalk into my face, my tía sprayed the entirety of my body with carioca, and a family friend rubbed some avocado on my cheeks, I began to understand the whole "playing Carnaval thing." Or so I thought… Because once I was covered in chalk, foam, and avocado, I was rushed over to a stool where a trash can full of water (and shoes, for some reason I have yet to uncover) was dumped over my head.
Then, these steps were repeated again and again for every person until the sun began to set and the combination of our wet clothes and the nighttime breeze made us shiver and rush over to the hot tub. And while I thought then that the party was over, in reality, it had only just begun. Shortly after our escape to the hot tub, five hours of karaoke began as my host family members fought over the microphone and danced to every new song.
And after that, a week of Carnaval activities followed. My favorite activity? Jueves de Compadres y Comadres, or the Thursday before Carnaval when the people of Cuenca gather in a plaza in order to spray carioca into each other's faces (aka eyes). Thankfully, I wear glasses and had some semblance of protection. Others were not as lucky.
Following the events of the previous weekend and Jueves de Compadres y Comadres, I had imagined that the weekend of Carnaval itself would be nothing short of crazy. But after watching a parade in the city center of Cuenca, where (surprisingly, I know) there was more carioca and chalk, my weekend was spent relaxing with my host family.
We traveled to Yunguilla, ate traditional foods such as cuy (guinea pig) and Mote Pata (an Ecuadorian soup only served during Carnaval), and played board games. This togetherness and family bonding time was one of my favorite aspects of Carnaval, as it helped me strengthen my familial relationships and I learned my new favorite board game: Rummy-Q.
While completely crazy at times, I am so thankful I got to experience Carnaval here in Ecuador. The time I spent immersed in all of its festivities, from being sprayed down with foam to eating a traditional soup with my family, was time I spent learning more about the Ecuadorian culture and abandoning the stress of acclimating to a new, unfamiliar place. And after experiencing the fun-loving, carefree attitude of Carnaval, I have decided to adapt certain elements of that attitude into my own mindset as I look toward my next three months here in Cuenca.
¡Que viva el Carnaval!