Category Archives:
Uncategorized
By Abby
Since I haven't been the most diligent about writing my blogs, I thought reflecting on my mechinah's middle of the year seminar, designed to reflect on individual and group growth, would be appropriate. I was pleasantly surprised to realize that I didn't quite need the time to ponder my own journey because I journal – literally dedicating 20ish minutes every night to reflecting – and because I've discovered I'm naturally a reflective person – sometimes to a level where I wish I could stop feeling all my emotions because it is exhausting. Instead, I mused on the group community we have created. We essentially live in a commune; everyone has shifts for cooking and cleaning and is part of a committee pertaining to a certain aspect of our experience (community service, learning, logistics, shabbat, and group.) My reality here is enormously different than my old reality of sitting through a whole day of school and extracurriculars and coming home to a clean house  with dinner waiting on the table. Sometimes, I am lazy, and I don't want to plan, cook, or clean – especially clean – anything. The sentiment of "somebody else will do it" occasionally, or perhaps more than occasionally, percolates through my brain. But then what if everyone has the same reaction? During one seminar session, we discussed our favorite quotes/themes from classes so far, and one quote really stuck with me: הפראייר האמיתי הוא הבן אדם שמפחד להיות פראייר" " meaning "the real freier (Hebrew slang term for a sucker/a chump/someone taken advantage of) is the person who is too scared to be a freier." I understand this to mean that putting in more than you are likely to "get" is much more fulfilling than refusing to put in anything because giving part of yourself is part of the "getting."

As a member of the group committee, my responsibility is to help plan our weekly שיחת קבוצה (group conversation). This forum is the food and water that enables the group to exist and grow. Our conversations consist of a 15 minute discussion on practical issues – often cleaning – and then we transition into some sort of activity or question that everyone participates in or answers. I've learned that group responsibility is not just a practical sentiment but also an emotional one; our group wouldn't exist if not for communication, and I have improved tremendously on this front. I wouldn't say I used to put up walls around myself but more that I never ventured out of my dotted line enclosed comfort zone. I wasn't scared of opening up, I just always thought I could handle my own feelings, and I rarely spoke up if something was bothering me out of fear of being perceived as brash.
However, during our middle of the year seminar, many friends complimented me on how comfortable I was sharing my feelings during our many group-conversation-like sessions. And, during our "thinking time" sessions, I reflected on how beautiful it is that I have a group to which I can give so much of myself practically and emotionally.
By Hannah
After spending some quality time with my family over the holidays, it was time to embark on the next part of my gap year. After a dozen iterations of where I was going to be for the next few weeks, I am writing to you from Stowe, Vermont. I flew across the country the first week of January to live with my friend who I met on my semester program in the fall (and who is going to Duke next year!). With COVID-related restrictions becoming stricter in many places, traveling out of the country was out of the question. The two of us got talking a few weeks ago and planned to live together for a few months and spend our time cooking, skiing, and working at remote internships. While I've only been here for a week or so, I thought I would share what a typical day looks like.
Around 9 I wake up, have a cup of coffee (or two), and get dressed to head out skiing. I usually eat a quick breakfast before heading to the slopes to get a couple of hours in. I'm grateful that the mountains have made skiing possible this year, it has been such a nice escape to be able to safely do something I love.
Around lunchtime, we head in from skiing and make ourselves something to eat. After that, I spend a few hours working at my internship. Every day is different, usually I have a few meetings and then do some work after. Having this experience working at a start-up is another gift that this year has brought. I am learning a lot about working on a team and it has been really rewarding to see how my work contributes to the bigger picture.
After finishing up some work we work out and cook dinner. We've been experimenting with lots of fun new recipes and they have (almost) all turned out great. After dinner, we usually watch an episode of The Great British Baking Show or work on a puzzle.
While I can say with certainty this is not at all how I expected to be spending this portion of my year, it has turned out to be very enjoyable. If I have learned one thing throughout this time, it is that you don't need to be in the coolest place to find meaningful ways to spend your time (though I must say, Vermont is quite beautiful). I would urge future gap students to keep this in mind. Wherever your year takes you, find a routine that gives you balance and meaning in what you're doing. For me, that's a mix of being outdoors doing something I love, and learning through real-world experience at my internship. Find what that means to you, and I guarantee your time will be rewarding.
By Siddharth
8th November has – at least in the last few years – witnessed a mellow birthday celebration. A family trip to the hills, a lunch with a few close friends, or (in the midst of last year's application season) a simple takeout from my favorite restaurant. Over the years, the appeal of a huge birthday party with all the pomp gradually faded and was replaced by a low-key gathering with no gifts. This is all to say that a raging epidemic searing through the country at an exponential pace did little to obstruct my regular birthday plans.
The celebrations this year were much of the same, barring the lunch with my friends which was replaced with a midnight Zoom call. The rest of the day saw me taking a break from my research internship and instead deciding to inhale all of Netflix with a tubful of my mother's signature velvet mousse. As the evening came to a close, my dad had arranged for me my favorite street food: two jumbo-sized samosas from the takeout counter of 'The Embassy' in Connaught Place. What followed was a family game of Monopoly, where my brother and I build up our appetites the best way we know: accusing the other person of cheating endlessly. The Monopoly session concluded just in time for my all-time favorite Domino's Pizza order: 1 medium, thin crust Chicken Dominator with a side of chicken wings and a Choco Lava Cake to top it all off.
In the last 4-5 years, I've always opted in for the pleasant and easy-going party instead of an all-out birthday bash. And thankfully, despite the pandemic, this year was no different
By Leah
After a couple of weeks of strict quarantine, I'm all packed up and ready to go for the next part of my gap year! 
 I'll set off early tomorrow morning for the first leg of my four-day drive–I'm going from my hometown of Alexandria, VA, to Knoxville, to Little Rock, to Abilene, and finally ending up in El Paso. From there I'll meet up with my Outward Bound group, and we'll drive together to Big Bend Ranch State Park. Then, from October 19 until December 7, I'll be backpacking through the desert and canoeing up the Rio Grande.  
I can't wait–I've never spent 50 days away from home, let alone 50 days in the wilderness with only nine other people. My goals are to learn about surviving in the great outdoors, get stronger, and get close to the other students on this trip, all while experiencing one of the most beautiful corners of the United States. 
 It's all seemed very abstract to me up until now–I've spent months looking for the right gear and breaking in boots, but it's taken me a while to understand exactly what this trip will be. I think I've finally truly realized that all these layers of long underwear and extra rain jackets and nylon pants will actually be worn, by me, in a far away but very real place. I just can't wait to be there! 
 It took a while to pull all the things that I'll need together, but I've actually managed to pack pretty light–basically just a couple of pairs of pants, some t-shirts, a warm jacket, and plenty of socks and long underwear. Other than clothes, a toothbrush, journal, and camera are all I need. Hopefully I'll come back with some great photos and stories to share!  
 We won't have phones out there, or internet or TV or newspapers, so the never-ending stream of information that I've enjoyed for the past several years of my life will finally be interrupted. After three months interning with a firm that produces political campaign ads, it feels crazy to imagine being so separated from the world of politics and constant breaking news. I hope there will be a way for me to find out if the candidates who I helped make ads for won their races, and to hear about any other important things that happen. 50 days is a long time–I feel incredibly lucky to have this opportunity to get away, but also a bit worried to see what kind of a world I will come home to. 
 But for now, my most pressing concerns are simply making sure that I have all of the things I need and enough snacks for the long drive there. Best of luck to everyone else at Duke Gap Year Program in whatever you do for the next couple of months–I'll talk to you guys again in December! 
By Matthew
I spent the last few months with friends volunteering on a farm located about 7 miles west of the remote town of Hana on the island Maui.  For perspective, while offering undeniably spectacular views, Kaoli is approximately 2 hours from the nearest grocery and hardware stores, accumulates roughly 400 inches in annual rainfall, and we lived under a tarp. Open tent camping in a lush rainforest overlooking the south pacific sounded rustic to all of us, but challenges presented themselves immediately upon arrival.  After a sleepless first night battling mobile little critters, the roar of intermittent rain bursts and the sounds of creatures lurking in the background, fixing our living quarters became job number one.  We had to turn our bug infested sauna of a rain shelter into something passable for daily living if we had any hope of lasting a week.
The list of projects seemed infinite, so we focused on Maslow's most basic needs, including food, shelter, water and sleep.  The first task was combatting the bugs, as we emerged from our sleeping quarters covered in what looked like early stages of smallpox, courtesy of some opportunistic mosquitos.  As we compared battle wounds our host informed us that bug nets were a week out at best. We improvised and focused on generating as much air flow as possible through the tent.  We grabbed machetes and hand saws and attacked the inkberry, hoe bush, and mango trees blocking the strong east-facing "Kona" winds that swept across the property.  We used the newly harvested wood to construct a platform to get our sleeping bags off the jungle floor and created shelves for our belongings and built a functional, beautiful table.  The next step was eliminating the ape plant (wild terro) surrounding the tent which generated many puddles of stagnant water birthing millions of mosquitoes.
The next challenge was finding more accessible water.  Bathing would have been nice after being covered in dirt and brush for eight hours each day, but avoiding severe dehydration was the bigger concern. Ninety degrees under a canopy of overgrowth was crushing us.  Our host had previously found a spring about a mile upstream of the property which he hoped to use to irrigate the farm eventually. By tripling the occupants on the farm connection to the water source became imperative.  We mapped out a plan, trudged up and down the mountainside for days, eventually hooking up 2,000 feet of pipe from the mouth of the spring to just above our tent. After battling water pressure issues we installed water tanks halfway up the hill, and before long we had fresh drinking water.  Days later we actually rigged up a shower system with lava rocks as flooring to avoid bamboo foot punctures and palm fronds tied to inkberry railings to obscure the view.
I don't know if our efforts qualify for a "Home Improvement" episode, but necessity is the mother of invention and before we left we transformed our little slice of rainforest into a glorious one bedroom, half-bath palace, complete with closets, porch, dining room, surfboard and drying racks for our disgusting clothes.   That first night was horrendous, but by week three we were sleeping like babies after adapting to jungle living at its finest.
By Shun
It's been around a month since I've arrived in Japan, and I finally feel like things have started to settle down. I finished my self-quarantine, moved into a share house, found a nice place to work every day, and enrolled in the local gym. However, along the way, it was hard getting used to living alone in a new environment far from home. I no longer knew where everything was, where to eat, where to take some time to relax, I can't walk to the park to play soccer, or practice violin at night, and there's nothing stocked in the fridge to eat when I am hungry. 
The last of the three was the most difficult challenge I've had to get used to since arriving in Japan. In the US, whenever I was hungry, there was almost always something on the table, or in the fridge, I could prepare to eat. Here, I always have to go out or to the supermarket to buy groceries and cook something myself. In the beginning, it was fun to take time to cook dishes I had never cooked before (even with my subpar cooking skills), but as I've started to get busy, the quality of my meals (and daily schedule for that matter) have really started to deteriorate. It's really made me appreciate the time and effort my parents put into cooking (thank you). 
Apart from the difficulties of my daily cooking/dinner adventures, I have really enjoyed my first month in Japan. Whether it was starting a project with 5 other students to help reduce the barrier for foreign exchange students to study in Japan and provide more opportunities for Japanese students to practice speaking English or taking a two-day trip with some friends to explore Enoshima Island and Kamakura in Kanagawa Prefecture, I've gotten the opportunity to meet and bond with many different people from completely different walks of life.  
Though I feel like I have so much already, I know there's so much more left to come. Whether it's programming, cooking, or talking to people I've never talked to before, I look forward to whatever awaits me next. 
By Zachary
nce, major shortcomings in a particular subject, not having a place to go home to after school, etc. City Year's objective is to help these students through individualized and long-term attention from those participating in the program.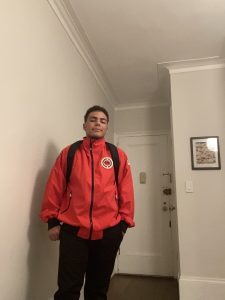 By Amelia
It feels surreal that, in just over six weeks, this five-and-a-half month period of sitting around at home will finally come to an end. I'll be stuffing my 65-liter backpack full of the essentials (sleeping bag, sleeping pad, tent, water filter, bear canister, ultralight stove, cooking fuel, and food to last at least a week) and heading into the Northern California wilderness. 
My plan is to backpack along the Pacific Crest Trail from Echo Lake to Donner Summit, a 65-mile stretch known as 'California Section K'. This will be my first real backpacking trip, so in preparation I spent three days earlier this month doing a practice trip with my family. I packed my backpack, sealed up my bear canister, and drove about three hours to Long Lake (near the Plumas National Forest). On the first day, I hiked about two miles to the end of the lake to set up camp, then spent the second day doing an 8 mile out-and-back hike (with a full pack on, don't worry!) along the rocky Palisades Trail. I have to admit that, after startling a rattlesnake on the first mile of the trail, I almost decided to turn around and give up on backpacking altogether. I'm glad I didn't because, in spite of the snake scare, the scenery was beautiful and being surrounded by nature made the feeling of isolation (something I think we've all experienced at some point during the last several months of quarantine) almost normal. On the third day I hiked back out, tired and in desperate need of a shower, but feeling at least a little more confident in my backpacking abilities.
I hope that my PCT trip will be a chance to really get to know my home state – although I was born in California and have lived here my whole life, there's still so much I have yet to see. I hope to learn not only how to survive for a week on supplies that I can fit in a single backpack, but also how to spend time truly alone and independent from society. Most of all, I hope that this backpacking trip will be the first of many! 
By McKenna

My journey in Nepal started with blue skies of Kathmandu when my Himalayan Group landed on the morning of September 16th. The medieval city of Bhaktapur was home for orientation, where we developed group norms, set personal goals, and started ethical discussions during a brief stay at a Permaculture farm and with Learning Service expert. We concluded our time in Bhaktapur with a ceremony that shocked me with its ability to create a sense of community with a group I met just four days ago. 
We then settled into our urban home stays in Patan; a city known for its rich history of art and the juxtaposition of the ancient and modern ways of life in a harmonious way. Patan became home for one month during which we studied Nepali, learned about Newari cultures through celebrating Dashain Festival with our homestay families, and studied with the renowned "Mother of Ayurveda", Sarita Shrestha. Among the honking motorcycles and peaceful courtyards, I created a family halfway across the world and was thankful for familiar constants that resonated in both my family I left behind and my new one in Patan.
In Nagarkot, I got my first glimpse of the Himalayas during a short student-led excursion. With thirteen students all trying to achieve different objectives in a four-day time slot, I learned a lot about different types of leaders and which are best for specific groups. We stayed in Dhulikhel for mid-course reflection where we revisited our goals and set new intentions for the remainder of the course. 
We then embarked on our fifteen-day trek through the Himalayas to the sacred Gosaikunda Valley. We were blessed by wonderful views of the mountains and jaw-dropping sunsets that  set the sky ablaze with light as we learned about the Himalayan wilderness and outdoor skills whilst also learning from the lessons and activities led by the instructors and different topics ranging from sacred spaces to climate change and human relationship with earth. As the final challenge of the trek, most of the group was able to successfully climb the Suyra peak, which at an altitude just shy of 17,000 feet, is one of the highest points in the valley. It was during this trek that I was challenged the most, both physically and mentally.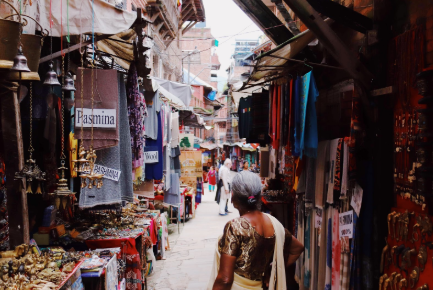 We then embarked to sacred Boudhanath before going to village home stays in the village of Ale Gaun in western Nepal. Ale Gaun is an isolated village consisting of seven houses upon a hill. And there I feel as though I truly learned what community was for the first time. It meant all the aamaas (moms) coming together everyday to prepare lunch (which was the daal bhat, the traditional rice and lentils, of course). It meant aamaa being proud of me even if I spent the day helping Natalie's family beat rice or Jojo's sickle grass that day. Having tea time twice a day because whenever you walk by another house, they insist you join them. Never really understanding which dog  belonged to which family. I learned that you don't need words to express love for one another. 
For our second student-led trip, we spent a week in Chitwan National Park. It was strange to have the landscape be completely flat after only spending time in Nepal's mountainous or "hilly" regions, but the views consisted of glimpses of one horned rhinos, wild boar, monkeys, wild elephants, and gharial. I was reminded of the importance of considering all the consequences of tourist attractions before partaking in certain activities through our Stand Up For Elephants visit.
From Chitwan we traveled back to the Kathmandu Valley to Namo Buddha Monastery to experience the monastic life of a Tibetan Buddhist. At the monastery we learned about meditation and the basics of Buddhism with a respected lama and reflected back on the teachings through the time. Here, I attempted to stay silent for half days and broke down into tears on the first two attempts (and consequently decided to break my silence). But the third time was the charm! Through this small but significant achievement, I learned how challenging yet illuminating it is to be alone —and undistracted— with your thoughts. I found out that sometimes learning more about yourself can make you even more frustrated and confused. And that although I'm still uncertain about many things about myself and my future, it is important to try to become comfortable with uncertainty. That gap years are opportunities to choose your own path for the first time in your life, and that can be daunting. But the beauty of uncertainty is that there are endless possibilities. 
We finished our time in Nepal at the hilly town of Dhulikhel where we reflected on the journey and drew from the experience to take learning back into our lives. We celebrated the friendships created, challenges overcome and moments of growth to leave Nepal with a better understanding of ourselves in the world that we were able to experience in such a different context. 
The idea of returning home felt surreal after being away for so long. As the trip came to an end, I felt torn. I missed my parents a lot, but now, I missed my host family too. I couldn't wait to hug my friends who returned from college for holiday break, but dreaded the time I would have to hug those in my group goodbye. I was homesick for both places for the same reason. Two completely different places embody a sense of community which I hold so dear. So, with so much to look back on and so much to look forward to, we boarded our plane in Kathmandu, where we started this journey together.