By Ethan
When trying to explain to someone its small physical size, people frequently compare Israel to New Jersey. But what you don't hear as much is that Israel feels much smaller than New Jersey.
I gained a new appreciation for this small-world feel when I went to a quaint cafe across the street from where I live in Jerusalem. To my surprise, I found the sitting prime minister, Benjamin Netanyahu, eating lunch with his wife and son. Of course, there was a security detail surrounding the cafe, and a guard asked me a few questions before letting me in to eat. Not twenty feet away from my table in the courtyard sat Prime Minister Netanyahu, who, when finished with his meal, took a picture with me after I asked. He even insisted on a selfie!
Being as effortlessly close to the leader of a country as it was in this case is a remarkable reflection of how real and small this country is. At home, I have never met my senators, representative, or governor, let alone the president. Thus, meeting the prime minister in such an average-Joe's setting was awesome.
The holiday of Chanukah happened at the end of December, and experiencing it in Israel was outstanding. To see so many people lighting their Menorahs in their windows every night of the holiday was inspiring and beautiful. In fact, in some places, people have special glass boxes to enable them to light their menorahs outside! This concept doesn't quite exist in the United States, so seeing a different way others practice the same holiday was wonderful. Chanukah also made me feel a unique sense of community.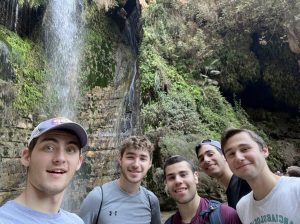 In other news, I've spent some time visiting places around Israel lately, from the alleged tomb of Samuel, a biblical prophet, to a tour of the Knesset, Israel's parliament building. I even got to sit in on a live plenary session! I also went to Masada, an old mountaintop fortress overlooking the Dead Sea, followed by a short hike in a nearby oasis called Ein Gedi.
Lastly, because Jerusalem is a city considered sacred by all three Abrahamic religions, I went to the Armenian and Christian Quarters in the Old City on Christmas Eve to explore how another religion celebrates its holidays. There were lights everywhere and people coming and going from mass and holy sites. The Old City felt harmonious and charming .
By Ethan
I anticipated that joining the Israeli workforce, even as an unpaid intern, would open my eyes to new elements of Israel's culture– I was right. Over the last couple months, I worked at two different places, met many interesting people from varying backgrounds, and poured long hours in to feel the rewards of hard work.
At my first job, I worked at a media company, helping with video editing and live recording and production. The company I worked for did strictly contract work, meaning every project was with a different set of people. This style of work meant I met everyone from political figures to worldwide news anchors to non-profit leaders. It helped me realize how important it is to treat everyone professionally and with respect, as people are working toward their own goals and facing their own challenges in their lives.
In addition, this was my first time working under a boss in a standard office setting, so getting used to the grind of office life was tough at first, but a valuable experience to have. My schedule involved a commute via two public buses, which helped me better understand Jerusalem's layout, and in this practical way, feel more like a local.
My second job was working for an organization that educates young English-speaking Jews about Judaism and Israel. I witnessed the passion that educators have for what they do, and appreciated how hard they worked just to teach people. I worked with many different forms of content across many different media platforms, in addition to sitting in on some of the live classes they taught to groups. Because of all of this exposure to teaching, I learned a lot about how people respond differently to different types of education, whether that be a lecture, a conversation, or a debate.
The office in this job was bigger than my first one and felt more like a family; everyone was working hard, and this shared effort built tremendous office place comradery. I would hope for any place I work at in the future to have the level of efficiency, effort, and collegiality of this workplace.
Reflecting on my internships, I have grown into living in Israel and feel much more comfortable communicating in Hebrew, and being part of the everyday workforce has played a significant part in that. Adjusting to living in another country is a process, but it's one I've enjoyed.
By Ethan
Through a month and half in Israel, I feel like a tourist and a local simultaneously. Like a tourist, when Israelis speak to me in English, even when I speak to them in Hebrew. Like a local, when I can adeptly navigate Israel's public transportation, from bus to train to bus to final destination. I've been to Israel multiple times in my life, but always felt like a tourist. Now that I'm living here, I've committed to improving my Hebrew and understanding more about Israeli culture.
The first part of my year, which I'll call chapter one, saw me living on a kibbutz, a communal living society, called Ein HaNatziv. I woke up early in the morning to perform manual labor in the fields owned by the kibbutz, instructed by its members on the work to be carried out. After working with one of the kibbutz members for multiple days straight, I formed a relationship with him, my first real immersion into Israeli culture of the year.
A highlight of living on the kibbutz came when the kibbutz raised money to put on a wedding for a couple that otherwise couldn't afford it. I showed up to dance and sing to celebrate a couple I didn't know. It was a heartwarming and joyful night.
After living on the kibbutz, I returned to where I'll be living for most of the year–Jerusalem. Judaism's high holidays, chapter two, began soon thereafter, so Israel, and definitely Jerusalem, got in the festive spirit. I've never experienced the holidays here until now; I've only ever been to Israel during the summer months.
The holidays have not disappointed; I've participated in meaningful prayer services,dancing and singing with random people, and eating delicious holiday meals. The culture of comradery and celebration during this time of year is inspirational– people connect to one another almost too easily.
In under a week, the holiday festivities will be over, as Israelis will go back to work and school. To this next chapter of the year, chapter three, I aim to bring with me the happy feelings that I've felt during the holidays and the ease of meeting new people in Israel.