By McKenna

My journey in Nepal started with blue skies of Kathmandu when my Himalayan Group landed on the morning of September 16th. The medieval city of Bhaktapur was home for orientation, where we developed group norms, set personal goals, and started ethical discussions during a brief stay at a Permaculture farm and with Learning Service expert. We concluded our time in Bhaktapur with a ceremony that shocked me with its ability to create a sense of community with a group I met just four days ago. 
We then settled into our urban home stays in Patan; a city known for its rich history of art and the juxtaposition of the ancient and modern ways of life in a harmonious way. Patan became home for one month during which we studied Nepali, learned about Newari cultures through celebrating Dashain Festival with our homestay families, and studied with the renowned "Mother of Ayurveda", Sarita Shrestha. Among the honking motorcycles and peaceful courtyards, I created a family halfway across the world and was thankful for familiar constants that resonated in both my family I left behind and my new one in Patan.
In Nagarkot, I got my first glimpse of the Himalayas during a short student-led excursion. With thirteen students all trying to achieve different objectives in a four-day time slot, I learned a lot about different types of leaders and which are best for specific groups. We stayed in Dhulikhel for mid-course reflection where we revisited our goals and set new intentions for the remainder of the course. 
We then embarked on our fifteen-day trek through the Himalayas to the sacred Gosaikunda Valley. We were blessed by wonderful views of the mountains and jaw-dropping sunsets that  set the sky ablaze with light as we learned about the Himalayan wilderness and outdoor skills whilst also learning from the lessons and activities led by the instructors and different topics ranging from sacred spaces to climate change and human relationship with earth. As the final challenge of the trek, most of the group was able to successfully climb the Suyra peak, which at an altitude just shy of 17,000 feet, is one of the highest points in the valley. It was during this trek that I was challenged the most, both physically and mentally.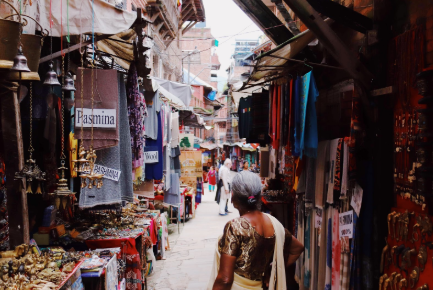 We then embarked to sacred Boudhanath before going to village home stays in the village of Ale Gaun in western Nepal. Ale Gaun is an isolated village consisting of seven houses upon a hill. And there I feel as though I truly learned what community was for the first time. It meant all the aamaas (moms) coming together everyday to prepare lunch (which was the daal bhat, the traditional rice and lentils, of course). It meant aamaa being proud of me even if I spent the day helping Natalie's family beat rice or Jojo's sickle grass that day. Having tea time twice a day because whenever you walk by another house, they insist you join them. Never really understanding which dog  belonged to which family. I learned that you don't need words to express love for one another. 
For our second student-led trip, we spent a week in Chitwan National Park. It was strange to have the landscape be completely flat after only spending time in Nepal's mountainous or "hilly" regions, but the views consisted of glimpses of one horned rhinos, wild boar, monkeys, wild elephants, and gharial. I was reminded of the importance of considering all the consequences of tourist attractions before partaking in certain activities through our Stand Up For Elephants visit.
From Chitwan we traveled back to the Kathmandu Valley to Namo Buddha Monastery to experience the monastic life of a Tibetan Buddhist. At the monastery we learned about meditation and the basics of Buddhism with a respected lama and reflected back on the teachings through the time. Here, I attempted to stay silent for half days and broke down into tears on the first two attempts (and consequently decided to break my silence). But the third time was the charm! Through this small but significant achievement, I learned how challenging yet illuminating it is to be alone —and undistracted— with your thoughts. I found out that sometimes learning more about yourself can make you even more frustrated and confused. And that although I'm still uncertain about many things about myself and my future, it is important to try to become comfortable with uncertainty. That gap years are opportunities to choose your own path for the first time in your life, and that can be daunting. But the beauty of uncertainty is that there are endless possibilities. 
We finished our time in Nepal at the hilly town of Dhulikhel where we reflected on the journey and drew from the experience to take learning back into our lives. We celebrated the friendships created, challenges overcome and moments of growth to leave Nepal with a better understanding of ourselves in the world that we were able to experience in such a different context. 
The idea of returning home felt surreal after being away for so long. As the trip came to an end, I felt torn. I missed my parents a lot, but now, I missed my host family too. I couldn't wait to hug my friends who returned from college for holiday break, but dreaded the time I would have to hug those in my group goodbye. I was homesick for both places for the same reason. Two completely different places embody a sense of community which I hold so dear. So, with so much to look back on and so much to look forward to, we boarded our plane in Kathmandu, where we started this journey together.