By Cate
Acostumbrarse. The Spanish verb for becoming accustomed to and also one of the first words I learned upon my arrival in Cuenca. Within those first few weeks of learning to live with a host family, speak a new language, and maneuver an unfamiliar city, I thought that I would never become accustomed to this strange new way-of-life. At times, I felt almost overwhelmed by the amount of challenges I faced on a daily basis. Luckily, within my first six weeks of being in Ecuador, I got to experience the levity and merriment of Carnaval, one of the biggest holidays celebrated in Ecuador and in South America. Due to this festival (and the copious amounts of pan con dulce de leche that I consumed), I was able to overcome many of the stressors of cultural adjustment and begin to truly enjoy the breadth of Ecuadorian culture.
Carnaval is a momentous occasion here in Ecuador. Back in January, when I first moved in with my host family, they were already discussing their plans for Carnaval: where we would go, what we would eat. It was not a matter to be taken lightly. In the weeks leading up to the festivities, our house became a storage center for water guns and cans of carioca, or party foam. Bottles of Coca Cola and Pilsener began to collect on our porch.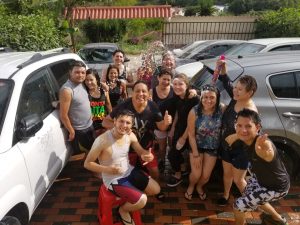 Then, on February 15th, about a week before the official start of Carnaval, my host family and I traveled an hour outside of Cuenca to the Valley of Yunguilla. Here, we met up with thirty other family members from all over Ecuador. For me, this was when Carnaval truly began.
Upon our arrival, and as we unloaded the seemingly endless amounts of food and drink from the car, several of my host family members began to set up a station where we were to "play Carnaval." I've learned since then that "playing Carnaval" can take many shapes, but for my family, it involved becoming a "human mess" and then eventually getting "cleaned" of all the gunk that covered us.
At first, I had no idea what was going on, but once my tío oh-so-gently threw chalk into my face, my tía sprayed the entirety of my body with carioca, and a family friend rubbed some avocado on my cheeks, I began to understand the whole "playing Carnaval thing." Or so I thought… Because once I was covered in chalk, foam, and avocado, I was rushed over to a stool where a trash can full of water (and shoes, for some reason I have yet to uncover) was dumped over my head.
Then, these steps were repeated again and again for every person until the sun began to set and the combination of our wet clothes and the nighttime breeze made us shiver and rush over to the hot tub. And while I thought then that the party was over, in reality, it had only just begun. Shortly after our escape to the hot tub, five hours of karaoke began as my host family members fought over the microphone and danced to every new song.
And after that, a week of Carnaval activities followed. My favorite activity? Jueves de Compadres y Comadres, or the Thursday before Carnaval when the people of Cuenca gather in a plaza in order to spray carioca into each other's faces (aka eyes). Thankfully, I wear glasses and had some semblance of protection. Others were not as lucky.
Following the events of the previous weekend and Jueves de Compadres y Comadres, I had imagined that the weekend of Carnaval itself would be nothing short of crazy. But after watching a parade in the city center of Cuenca, where (surprisingly, I know) there was more carioca and chalk, my weekend was spent relaxing with my host family.
We traveled to Yunguilla, ate traditional foods such as cuy (guinea pig) and Mote Pata (an Ecuadorian soup only served during Carnaval), and played board games. This togetherness and family bonding time was one of my favorite aspects of Carnaval, as it helped me strengthen my familial relationships and I learned my new favorite board game: Rummy-Q.
While completely crazy at times, I am so thankful I got to experience Carnaval here in Ecuador. The time I spent immersed in all of its festivities, from being sprayed down with foam to eating a traditional soup with my family, was time I spent learning more about the Ecuadorian culture and abandoning the stress of acclimating to a new, unfamiliar place. And after experiencing the fun-loving, carefree attitude of Carnaval, I have decided to adapt certain elements of that attitude into my own mindset as I look toward my next three months here in Cuenca.
¡Que viva el Carnaval!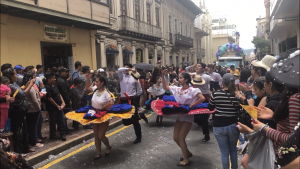 By Amichai
While much of the world is being affected by the coronavirus, being in Israel, I feel safe, as if I'm wrapped up in a cocoon that is the Old City of Jerusalem. However, I am also feeling very detached from the world, America, and even my own home. This feeling is both literal, since I am living in a walled city seven thousand miles from my home, but also emotionally, concerned for the well being of my family and community but I am not with them.
The coronavirus didn't feel real until recently, at the start of March, when the father of a friend from my high school class, who lives in New Rochelle, a suburb of New York City, was diagnosed with coronavirus. His case was the second known case in all of New York, and when I learned that he was in critical condition, the fact that the deadly virus was attacking NYC became real and was brought home to me. Shortly after he was diagnosed, his entire family, including two sons (one being my friend) and daughter, also tested as infected. As a result, my high school closed down due to coronavirus, becoming the first school in NYC to be shut down due to the virus.Having friends and cousins attending the school, I was overcome with feelings of frustration and restlessness that I was so far away from home, and even though I knew there was nothing I myself could do directly to help, I felt as though being home would soothe those feelings. The town of New Rochelle, where many of my close friends live, by itself now has more cases of coronavirus than any state in America.
Since the diagnosis in New Rochelle, the entire community has effectively been quarantined, which has completely disrupted life in the community. New York State ordered the New Rochelle community to shut down its synagogue whose services the coronavirus patient had attended the prior week. Bar mitzvahs and weddings (such as one that my sister was scheduled to attend), two of the more meaningful major life benchmarks and times of happiness in a person's life, have been cancelled. The community is in deep fear and uncertainty, not even having its own home of worship be safe. It is frightening that at a moment when prayer and hope for healing are really needed, the synagogue is closed and the community is shattered – gathering together in common bonding is exactly what is forbidden.
I too was overcome with feelings of fright and utter sadness, but soon after I realized how lucky I am to be in Jerusalem, able to continue doing what those in New Rochelle cannot do – share community, pray together and celebrate Jewish study together. This feeling of sadness turned into a deep appreciation of my own situation; however my concern for the New Rochelle community, my own community, and the rest of the world is still very much a part of me and is constantly weighing down on me.
By Makee
My dad and I got out of the car as I hefted my backpack onto one shoulder and squinted up. The sky was silent and clear. The pedestrian crossing between Tijuana and San Diego awaited us ahead, the whole gray, metal body of it. There was barbed wire in rings on top of the cement gray wall, and the door–that led to a hallway, that led to another door, that led to another hallway–was a metal lattice. It interlocked and revolved, letting one person push through at a time.
The American flag stood tall, billowing, rising up over the border wall and looking on past the sloping valleys of Tijuana. It was windy in a flat way that day, and the flag flew calmly. Right behind the flag was a mall–a grey compound with a Burger King and a Panda Express. Mall of the Americas, with its flashing signs and ads for one dollar quarter pounders, is the last thing visible before crossing.
There were soldiers in white uniforms and a bright silence through customs. There was a long, zig-zagging white bridge. On the other end, I was suddenly surrounded by tacos al vapor street stands and a gentleman's club. Ads were painted on the sides of cement walls of restaurants and homes. A TIJUANA sculpture greeted me with its tall, block letters.
I volunteered for a week with Al Otro Lado, a non-profit organization that serves asylum seekers and migrants in Tijuana. The building is four stories, shared by an anarchist collective and an organization called Food-not-Bombs, and seems more akin to an artist squat than a traditional office. The walls are adorned with vibrant murals and red drapes cover all the windows. The main entrance is dotted with stickers. I appreciate the openness to art and beauty in the building. People are welcomed in by walls varnished in different shades of turquoise and plants lining the fourth floor rooftop.
Over the course of the week, I completed intakes with asylum seekers while my dad digitized documents. People came through our doors from Eritrea, Honduras, Cameroon, Cuba, Crimea, and beyond. The stream of constant chatter was always an indistinguishable amalgam of language, with a murmuring of Turkish and soft Spanish currents floating throughout the halls.
My job as an intaker was to listen. The purpose of an intake is to distill the important information of each asylum seeker's case into an organized document, so that lawyers can advise the client based on their claim, and so that the client can concisely explain their story to immigration officers in a compelling way. In order to best understand these stories that tended to be complex, circuitous accounts, I needed to ask 5 essential questions:
What happened that made you leave home?
Who is responsible for this?
Why were you specifically targeted?
Did you go to the police?
Would it be possible to relocate to another part of your country?
These are not easy questions to ask, nor are they easy questions to answer, especially to a stranger. All five asylum seekers I worked with had faced senseless violence and persecution, and rightfully feared for their lives. One thing they consistently reiterated was that they never expected to be in this position–uprooted from their livelihoods and families, living in overcrowded shelters in Tijuana, awaiting their court date months away in the US. A grandmother I worked with told me over and over: "tenemos mucho miedo": we are so afraid. Her grandkids couldn't even go to school anymore. As I translated for the lawyer advising this woman on her case, I had to explain that all that she had endured might not be reason enough for her to win asylum in court. The court requires that applicants prove that they had or would be persecuted on account of at least one of five protected grounds: race, religion, nationality, political opinion, or membership in a particular social group. Random violence, however horrible, does not ensure protection from the United States.
I spoke with a girl a year older than me who had left her home after a gang stalked and threatened her and her family. She had just begun her first year of university. She told me about her boyfriend back home and how much she missed him. She carried a brown quilted backpack. (I'm about to start college too! I love mini backpacks too!). Despite the fact that she is traveling with her family, including her mom, dad, and two younger sisters, because she is of legal age, she may be sent to a detention center, for example, in Dilley, Texas while the rest of her family is sent to El Centro, California. As the lawyer and I explained this, she nodded wordlessly and pressed her back up against the wall. I felt very hot and suffocated then, and kept asking her, "¿entiendes?" She kept nodding yes, saying nothing.
I completed another intake with a young man who talked affectionately with his mom on the phone as I finished filling out my notes. He had been taken from his home and tortured by the police for his beliefs. He had a strong case, according to the lawyer. The only problem was that he applied for asylum in a time when US immigration policy is rapidly changing. The lawyer told him he would only be eligible for withholding of removal; while he could obtain a work permit in the United States, he could never become a permanent resident. He would also never be able to leave the United States, as this would forfeit his status. He told me he had a baby girl back home.
Most people I met at Al Otro Lado had already been through long, taxing journeys to reach the Tijuana border. But what awaits asylum seekers on the other side of the wall may be equally as harrowing. Ideally, asylum seekers should be able to present their case, go to custody, have a "credible fear" interview, and then argue their case in court.
In reality (according to my experience at the border), asylum seekers are being turned away and given a number to be called from an arbitrary list. The list is managed by a group of volunteers also applying for asylum, who receive instructions from Mexican border control, who receive instructions from Customs and Border Protection. It is impossible to predict when your number might be called–sometimes hundreds of numbers are called in one day, sometimes none–and numbers are announced at 6:30 in the morning at CBP's discretion.
After their number is called, the hielera awaits asylum seekers. It's a concrete room, kept at frigid temperatures, with no windows. The lights are kept on 24 hours a day. Asylum seekers are stripped of their clothing except for their base layers. They are given mylar sheets to sleep on the floor. There is little to no access to medical care, showers, or food. CBP claims that asylum seekers stay in the hielera for no more than 72 hours, but Al Otro Lado has seen their clients held there for three weeks at a time. People I spoke to during intakes described incredible hostility and disrespect from immigration officers. One client told me they threatened to deport him back to his home country if he didn't sign a document that he could not read or understand (the document was in English, a language he doesn't speak, and the immigration officer refused to translate it for him).
From the hielera, after completing a credible fear interview, asylum seekers are released to a detention center, or returned to Mexico under the "Migrant Protection Program". Al Otro Lado describes detention to their clients as jail cells. There, asylum seekers face squalid conditions for months on end awaiting their court date.
If asylum seekers are returned to Mexico, they are given a notice to appear in court. These court dates can be at 3 or 4 in the morning, there is little to no access to counsel in Tijuana, and even if asylum seekers manage to obtain an asylum application form from a judge, they must complete this legal document–that is completely in English–in Mexico. Sometimes, asylum seekers are given "ghost" notices to appear in court. Although they have a document establishing a time and date for their hearing, their case number is nowhere to be found in the system. When asylum seekers show up on this time and day, they are turned away and stuck in limbo in their asylum process. This is how the CBP has tried to deter, confuse, and ultimately, outwit those seeking asylum within our borders.
I struggled to write this because we are not the worst thing that has ever happened to us. The people I've written about have suffered, and continue to in our broken immigration system, but they are just as wholly human and deserving of justice as anyone else. It is not sufficient to say that one person was threatened by a gang and one person was extorted, and that another's brother was shot and left on the street. The young college student I spoke to had a boyfriend she really likes, and another woman I met let her chubby baby pull at her hair and pinch her arms. These people are not "rapists" or "bringing crime", and they are not "invading" the United States. They are people like me, like you, who have faced insurmountable obstacles that have left them in a vulnerable position they never expected to be in. And we, as a country, have the ability to help.
If you would like to donate or get involved, you can find Al Otro Lado's website here:
https://alotrolado.org/who-we-are/