By Cate
It's hard to believe that a year ago at this time, I had no idea where I would be this year. I was still scrambling to finish my last few college applications… applications to schools in places I had yet to visit. Applications to schools that seemed like abstract illusions conjured up by my own imagination rather than real, physical institutions I could be attending the following year. Yet, even as I scribbled out those applications to seemingly far-off worlds, I never once imagined that this year I would be sitting here, writing about how I spent my last semester… in Boise. And even if I had imagined that (which I didn't), I couldn't have imagined it would be one of the best decisions I have ever made.
Looking back at my past semester, I am still amazed at how many various, unique activities I was able to participate in. Not only did I accomplish almost everything I had set out to do, but I was also able to take advantage of new opportunities I would have never even considered. I found my semester in Boise to be genuinely enriching and am surprised by just how much I enjoyed reacquainting myself with my hometown—and state—over the past five months.
Here's a quick recap of my past semester:
I interned with the Sierra Club of Idaho! Over the course of four months, I worked on restoring Idaho's wild salmon populations to healthy, sustainable levels and learned so much more about running successful policy campaigns. Through this internship, I gained more confidence in myself and learned how to self-motivate, as I was tasked with multiple independent projects ranging from student outreach to sponsorship recruitment for our Wild & Scenic Film Festival.
From September to early January, I worked my first real job at a casual diner in historic Boise: Sun Ray Cafe. My tasks included scrubbing tables, washing dishes, and taking orders. The real difficulty: pleasing customers. Never before have my customer service skills been tested so intensely, but I now feel confident in communicating with people in a variety of settings.
Starting in August, I volunteered for the campaign of Boise's first elected female mayor! Every Sunday, rain or shine, I was out knocking on doors and talking to Boise's registered voters. While every door was a new challenge (I never knew if I would be yelled at or greeted warmly), I found canvassing to be an incredibly empowering and fascinating way to share my opinions, as well as hear the perspectives of different members of my community.
I also continued my violin studies by participating in a local community orchestra called Serenata. This organization was extremely fun to be a part of with its welcoming community and its goofy concerts (ex: Werewolf Bar Mitzvah).
One of my favorite aspects of this fall was reacquainting myself with ice hockey. The last few years of high school, I was unable to play hockey due to scheduling conflicts with practices and an overwhelming amount of schoolwork. However, this past semester, I joined a recreational women's hockey league and, while rusty, I had the most amazing time. My teammates were all so kind. They even threw me a going-away party before I left for Ecuador!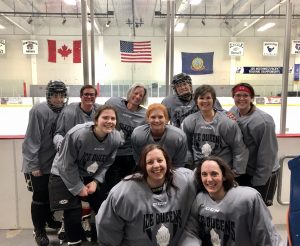 By Makee
It's fascinating how easily you can slip into another life. Here, it's custom to greet people with a hug and a single kiss on the cheek. There are few stop signs, even at busy intersections, so it's very important to look both ways before crossing. If you want to pay with a credit card, you usually have to show an ID to the cashier. Finally, you must tell the bus driver the cross section of the streets of your destination, so they can charge you the correct amount for the ride.
I've spent 2.5 days in Buenos Aires and I already have a wealth of little tricks to help me become a better Porteño. I'm living in a house with other international travelers, but everyone has their own schedule and routine, so it makes for a very independent experience. I forgot that I do not know how to cook at all; I've been eating out for every meal and have only managed to stock the fridge with some yogurt.
I feel very stealthy (and oddly empowered) slinking into different skins during my travels. No one knows me in this entire country and that anonymity is exciting. I can dine out alone every night, I can make a ton of new friends or I can make none, and it ultimately does not matter. There are no long term consequences to virtually any of my actions (within reason), so my existence is purely in the present moment. I may not have friends to do things with yet, but so what? If I want to take a walk near the ocean, or visit artisanal flea markets in the numerous plazas, or go on a hunt for the best iced coffee in my neighborhood, I can. It's refreshing and fun to do things on my own time, without fear of judgement because no one knows me and no one cares.
I've likened parts of my gap year to friends and family to "jumping off a cliff." In some ways, packing up all my things (again) starting over (again) in a new place (again) feels like a blind trust fall. I didn't have my housing completely sorted out for Buenos Aires until 2 days before I up and left home. It's incredibly intimidating to put yourself out there in a new country and hope for the best. But the experience, the ambiguous plunge into uncharted depths, is exhilarating and so. worth. it.
I've loved walking around Palermo, the neighborhood I'm currently living in, and seeing the vibrant murals on the buildings, the local clothing brands, the specialty panaderías, and adapting. It's fun to people watch, try new foods, and practice my Spanish. I will begin my public policy internship with a local NGO fighting against human trafficking in a few days, but for now I'm enjoying the uncertain, timid inklings of new discoveries in a new place amidst a new beginning.